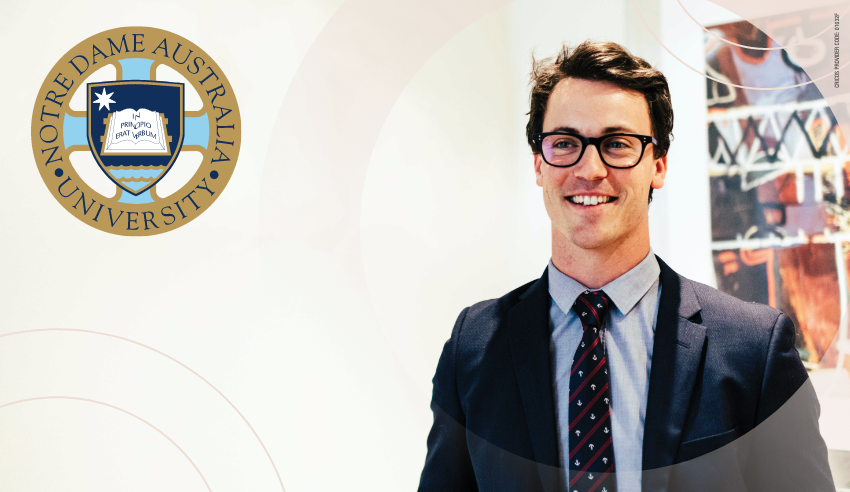 In a rapidly changing world, a Master of Laws is a great choice for lawyers looking to take their skills and knowledge to the next level and advance their careers.
If you're seeking intellectual stimulation, the chance to develop knowledge in new areas and a way to gain a career edge, the time might be right to consider further study, such as a Master of Laws (LLM).
"Completing a master's degree is something which does set you apart from other lawyers in Australia, and which is definitely respected and taken into account by partners of law firms," said Professor Michael Quinlan, National Head of the School of Law & Business at The University of Notre Dame Australia.
We spoke with Professor Quinlan about some common reasons to consider studying a master's degree in law.
1. Sharpen your skills.
Returning to study is an opportunity to further develop your research, writing, critical analysis and reasoning skills in a focused way. Through strengthening these skills and gaining a master's-level qualification, you'll gain an advantage when seeking new career opportunities. 
"Taking a Master of Laws in Australia is a really great way of expanding your legal knowledge and skills, and of differentiating yourself from other lawyers who have a Bachelor of Law degree or a JD only," said Professor Quinlan. 
2. Pursue your personal and professional interests.
Taking an LLM is an opportunity to specialise in something that's meaningful to you and your desired career direction. Different providers offer different specialisations and structures, so look at the units or courses that make up the program you're considering.
For example, Notre Dame's Master of Laws program has a focus on international law and on contemporary specialist real life issues. "It will be particularly interesting to those students who want to expand their knowledge beyond the Australian legal system and are interested in gaining knowledge about the practice of law in other jurisdictions." 
The program has a range of electives to choose from, covering topics such as human rights, modern slavery, law and religion, bioethics, cultural heritage, business, taxation, transport and environmental law in international contexts (to name just a few). 
It also includes a research component, where students receive one-on-one supervision to produce a thesis on a topic of their choice.
3. Examine the latest changes and challenges in law. 
A good master's program will give you the opportunity to engage with contemporary issues.
"We live in a time of great change. It is very hard to keep up with these changes and to gain expertise in developing areas without setting aside committed time in a formal study program to do so," said Professor Quinlan. 
"The global pandemic has created new challenges in human rights, bioethics and the relationship between law and religion. 
"This year has seen a range of new laws introduced or under consideration in Australia in these areas and in the area of modern slavery and our master's program gives students an opportunity to consider and critique these developments." 
4. Engage with experts.
Undertaking further study in law is a great way to learn from some of the brightest minds in the field and form valuable connections for your career.
Seek a program where you'll be learning from experienced leaders in the profession and academic experts, and have the chance to build relationships.
Notre Dame, for example, prides itself on having small class sizes (10-20 people) so students get to know their peers and teachers personally. It also has a professional mentoring program for law. "Our students can be mentored by senior legal practitioners – judges, senior counsel, partners of law firms, general counsel, and lawyers working for government or NGOs or politicians," said Professor Quinlan.
Armed with enhanced skills, up-to-date knowledge and an expanded professional network, you'll be well-placed to forge a path forward in your career after graduating with an LLM.
Other aspects to consider when choosing a master's program to enrol in include the availability of flexible learning options (online delivery, which is available at Notre Dame, means location isn't a limitation) and unique opportunities (students in Notre Dame's LLM, for example, can choose to study the second semester in France at the Institut Catholique de Paris, gaining a cultural experience and forming international connections). And, of course, the reputation and values of the provider. Notre Dame has been awarded five-star ratings for overall experience, skills development and teaching quality by the Good Universities Guide 2021 (for postgraduate coursework), and embeds a focus on ethics and positive leadership into every program. 
"Our objective is to graduate students who are not only equipped to be successful in the workplace but are keen to demonstrate their professional responsibility and to make a real contribution to the common good," said Professor Quinlan.