Carter Newell Lawyers has revealed it has appointed Ben Hall as special counsel.
Mr Hall brings over 18 years' experience to his new role. Throughout his career, he has gained experience as an insurance lawyer and an accredited commercial litigation specialist.
He has advised on a broad range of matters in the areas of professional indemnity, medical malpractice, public and product liability claims, as well as disciplinary complaints and investigations and defence of recovery claims by statutory insurers.
Carter Newell Lawyers senior partner Paul Hopkins said Mr Hall's appointment will help support the growth of the firm.
"We are very excited about the continued development of our eastern seaboard presence," he said.
"With Ben's appointment to our Melbourne office we are very well placed to service the needs of our clients."
In addition to appointing Mr Hall as special counsel, Carter Newell Lawyers has made three promotions.
Katherine Bland has been promoted to senior associate in the firm's property and injury liability practice, while Rebecca Ebzery and William Keating have been promoted to associates in the firm's construction and engineering and corporate practices, respectively.
In her time at Carter Newell Lawyers, Ms Bland has gained experience in personal injury and property damage claims, including issues of indemnity and liability. She has successfully appeared on behalf of her clients at compulsory conferences, mediations and trials.
Ms Ebzery has conducted a range of complex disputes for construction clients, both litigated and pre-litigated. These range from contractual disputes to allegations of misleading or deceptive conduct under the Australian Consumer Law.
Mr Keating has considerable experience in private M&A, corporate restructuring and general contractual drafting and negotiation matters. He also regularly assists legal counsel in both public and private companies on a wide range of matters, including capital raising, corporate finance and corporate governance.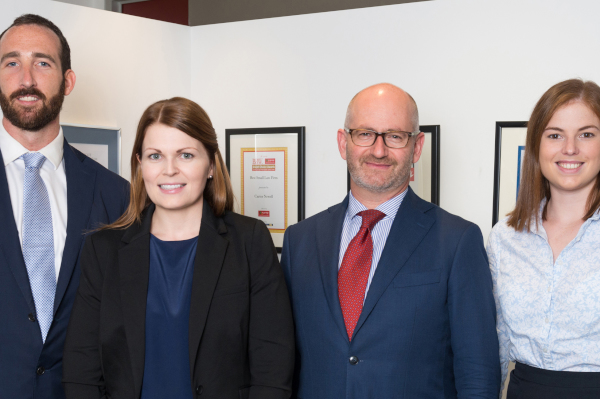 Pictured left to right: William Keating, Katherine Bland, Ben Hall, Rebecca Ebzery.