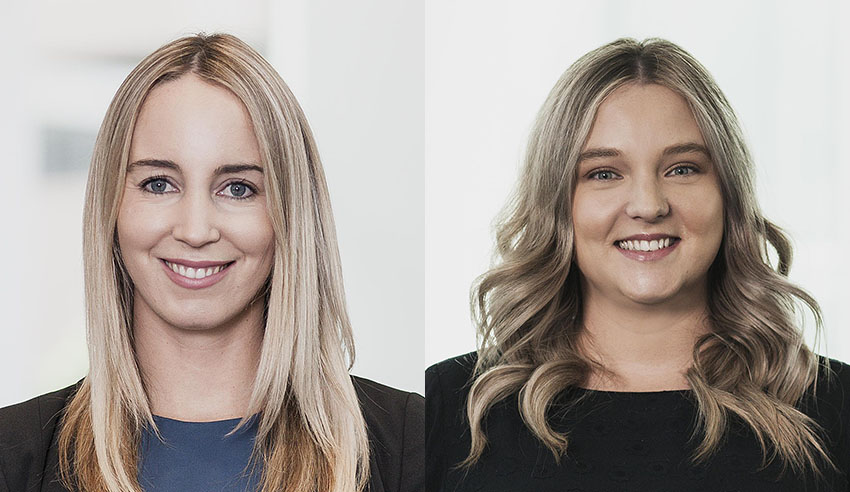 HopgoodGanim Lawyers has made two promotions, effective 1 January 2021, within the firm's resources and energy practice.
Sarah O'Brien-Smith has been promoted to partner and Liz Wreck has been elevated to senior associate. Both Ms O'Brien-Smith and Ms Wreck are based in the firm's Perth office.
The firm said these promotions further strengthen HopgoodGanim's presence as a leading adviser to private and publicly listed resources and energy companies, infrastructure developers and government bodies within Australia and internationally. 
Managing partner Bruce Humphrys congratulated the team on achieving these important career milestones. 
"These two promotions strengthen HopgoodGanim's offering in our national resources and energy practice and are due recognition for the commitment and resilience Sarah and Liz have shown throughout these extraordinary times," Mr Humphrys said.
"These promotions not only build upon our already robust presence in the market but will ensure we continue to diversify our partnership and business."
Ms O'Brien-Smith is an experienced mining lawyer, with exceptional generalist legal capability and deep sector knowledge. Her involvement across the project life cycle gives her an important insight into the resources and energy market, which aids in providing first-class advice to clients. Her experience includes sale and purchase of exploration and mining projects and resources companies, royalty agreements, farm-in agreements, joint ventures and access and compensation agreements.
The firm said she has a strong back-end capability, having a wealth of experience in litigious aspects of mining and infrastructure such as forfeiture and objection proceedings in the Western Australian Warden's Court and judicial review applications before the Western Australian Supreme Court and Court of Appeal. Her experience extends to involvement in international arbitrations relating to mining and infrastructure projects.
She is also active in furthering the legal profession and has recently been deputy chair of national young lawyers committee for the Law Council of Australia and convenor of the young lawyers committee of the Law Society of Western Australia. 
Ms Wreck is experienced in all areas of resources and energy law, and provides support in a range of transactions, advice and dispute resolution. Ms Wreck started her career working in-house for a mining services contractor before joining Hunt & Humphry in 2016 and then the firm merged with HopgoodGanim in 2017.
She is also a member of the AMPLA emerging leaders committee and was admitted as a practitioner of the Supreme Court of Western Australia in 2015.