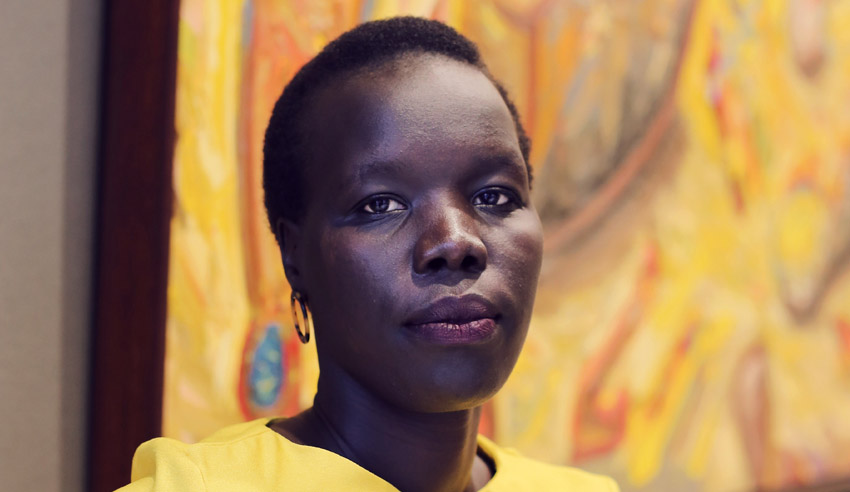 Lawyer, former refugee and advocate Nyadol Nyuon breaks down the challenges that Australian female lawyers must face everyday – from climate change, technology and social justice issues – and why these women must demand a better future now.
Working as an equal and being accepted fully have been a challenge for female lawyers at many levels across the profession, advocate and commercial litigator Ms Nyuon said in a powerful keynote for Australian Women Lawyers (AWL) National Conference. 
Speaking to over 1,000 attendees via webcast, Ms Nyuon listed the issues that women lawyers must face in their day-to-day, including sexual harassment. She quipped that had everyone attended this conference in person, "you could look next to you and see a woman who has experienced sexual harassment" at some point in their lives. 
"We're far from living in a society that guarantees women full and equal participation – in all areas of society," Ms Nyuon told the virtual audience, before adding: "There's still a great area to travel to achieve gender parity in the legal profession."
The reality of the profession is that female lawyers are still blocked from any leadership or senior positions, despite more women graduating with a law degree. Ms Nyuon took it further, arguing that on top of fighting for more seniority, female lawyers must endure the disadvantages that come from technology, climate change and social issues. 
There is hope, though. Ms Nyuon said like women in the past, "change will come from campaigning within the law and pushing for reform" in all spaces of the profession. 
"It will also mean creating allies that [go] beyond our gender, our race or our sexuality. We are here today in this profession, as women, because other women before us did their part to move the needle. We are here because other women demanded change," she said.
The impacts of technology on female lawyer's job losses
Entering 2020, Ms Nyuon said the world is on the cusp of its fourth industrial revolution, made that much more different by the technology designed and used over the COVID pandemic. Ms Nyuon said that while the new technology is yet to make lawyers totally redundant, "it has reduced the work that must be done for lawyers". 
It is here that the positions female lawyers tend to hold comes into play, said Ms Nyuon who pointed out that female lawyers tend to be concentrated in areas that are seen to be less prestigious or less financially rewarding than others. It is in these areas where new technology tends to make greater changes, particularly to job saturation.
"I think it is less likely that a partner would lose their job when technology takes over—it is more likely junior lawyers, or female lawyers who are less likely to take any senior roles, will be the first people to lose their jobs in such instances," Ms Nyuon said. 
Climate change and the challenges on women and girls
Labelled as the "greatest challenge of our generation", Ms Nyuon said climate change challenges all assumptions about the nature of the world as it is, but especially raises concerns for women and girls – and female lawyers – across the world. 
"The impact on global warming is likely to undermine democracy and rule of law itself, which raises particular challenges for anyone who practices law," Ms Nyuon said. The crisis, she added, "is stripping people of their identity and their rights". 
To really combat the issue, Ms Nyuon said female lawyers should be using their legal skills and knowledge, either by campaigning themselves or taking on cases to protect the environment, "to demonstrate and push action on climate change". 
However, there is the difficulty as a lawyer in speaking up on such issues and making any sort of statement in favour or against a particular controversy. With the pandemic especially, Ms Nyuan cautioned that Australia – and the world – is entering into spaces where things are seen as controversial "because we dismiss the science". 
"A difficulty of lawyers is that we are always careful to not become too highly political because our job is to represent people across the political spectrum. I think that is sad because we've got into this space where certain things are being politicised when they are, arguably, just scientific facts," Ms Nyuon said. 
BLM and cultural diversity in the legal profession
For most – if not all – women in the legal profession, sexual harassment, the pay gap, bullying and fighting for speciality roles are daily challenges. For women of colour and First Nations women, it's coping with the above on top of cultural-based discrimination.
"We often hear politicians boasting about Australia being the most multicultural place in the world," Ms Nyuon said. "What is much clearer, for the most multicultural society in the world – as Australia claims – there is a stark difference in the representation of Australian diversity and that diversity across public life."
Whether in schoolyards or in skyscrapers, diversity has not been met at all levels within the Australian way of life. The legal profession is much the same. 
"There is such poor representation across the board, whether you are looking at media platforms, the judiciary, lawyers being admitted. There is still very little diversity and it is going to take quite a lot of work to get people to feel that they are welcome in these spaces and that they can survive in them," Ms Nyuon said. 
Ms Nyuon said Australians tend to be sensitive about speaking up on this topic so any change can be made, "because maybe talking about it can make you a target". 
"People are afraid to get into this debate, but this prevents us from really engaging in even the most basic of discussions about race and racial diversity in this country," she said.