Breaking point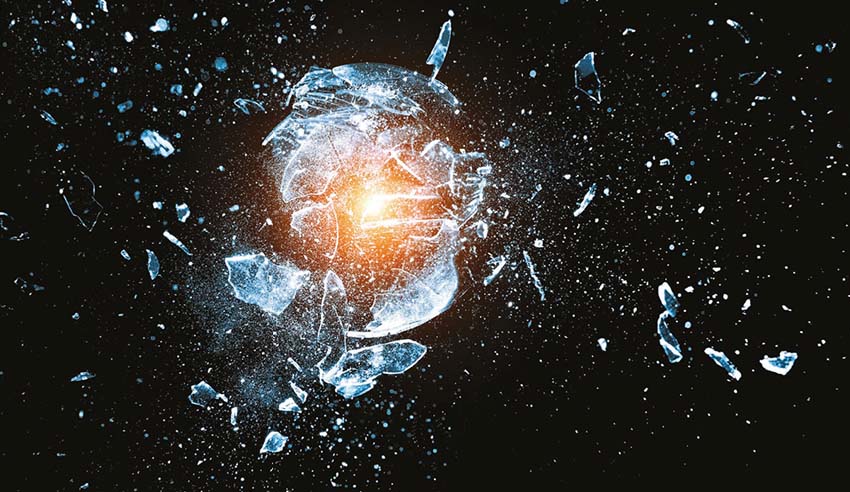 Consult a dictionary, and you'll find plenty of different definitions for the word 'broken'.
Among its many meaning variants, 'broken', as an adjective, can be considered in a number of different ways: damaged, no longer able to work; suffering emotional pain that is so strong that it changes the way you live, usually as a result of an unpleasant event; interrupted or not continuous; (of a law, rule, or promise) not obeyed or not kept.
On first consultation, some may say it seems a stretch to consider Australia's justice system as 'broken' in its treatment of Aboriginal and Torres Strait Islander individuals, but by looking at the above definitions, and applying the facts, it seems undeniably appropriate.
Despite decreases in Indigenous identifying defendants, a number of high-profile scenarios from the past six months alone have shed light on the injustices facing Aboriginal and Torres Strait Islander individuals disproportionately to the rest of the nation's population.
Raw statistics
Nationwide, statistics of court lodgements, case finalisations, and sentencing involving Aboriginal and Torres Strait Islanders make for a grim picture of inequality.
In the Australian government's Productivity Commission Report on Government Services 2019, 75.7 per cent of all lodged cases in the Northern Territory over the last year involved Aboriginal and Torres Strait Islanders.
In the Children's Court, 93.3 per cent of lodged and finalised cases for the year involved Aboriginal and Torres Strait Islander defendants.
This is despite Aboriginal and Torres Strait Islanders making up only 30 per cent of the territory's population.
Western Australian figures are just as telling, with Indigenous individuals represented in more than 30 per cent of the state's criminal case lodgements, despite making up just 3.8 per cent of the general population.
Almost 60 per cent of criminal cases lodged in the Western Australian's Children's Court also involved Aboriginal and Torres Strait Islander youth,
In Queensland, where the Indigenous population sits at 4.4. per cent, more than 20 per cent of the state's criminal case lodgements involved Aboriginal and Torres Strait Islanders, which jumped to nearly 50 per cent representation in Children's Court cases.
The Productivity Commission's data for New South Wales is incomplete, however, according to the Law Society of New South Wales, "three quarters of the state's Indigenous population has been cautioned by police, referred to a youth justice conference, or convicted of a criminal offence before the age of 23".
Considering the state's Indigenous population proportion sits well below that of other jurisdictions at three per cent, and the state has lower lodgement rates (in the Supreme Court) compared to other states and territories, it's disconcerting to even consider how high such rates could be across Australia, despite a lack of data.
In saying this, the Australian Bureau of Statistics (ABS) is able to plug some of the New South Wales data gaps.
It recorded an increase in Aboriginal and Torres Strait Islander defendants in the most populous state between 2013-13 and 2017-18 of nearly 20 per cent, from 6,945 to 8,201 individuals.
This jump in Indigenous-involved criminal cases is despite the ABS' most recent 'Prisoners in Australia' publication showing that the percentage of Aboriginal and Torres Strait Islander defendants had decreased across the other three states and territories named in the data.
Over the last five years, numbers of Indigenous defendants in South Australia are down 2,706 to 13,927 defendants, while the Northern Territory Aboriginal and Torres Strait Islander defendants have dropped from 10,827 to 9,288 over the same period.
While not as significant as the Northern Territory or South Australia's figures, Queensland also reported a decrease in Aboriginal and Torres Strait Islander defendants, with 14,677 Indigenous-identifying defendants in 2017-18, 158 less than 2012-13 figures.
Incarceration
The ABS says the Aboriginal and Torres Strait Islander population aged 18 years or over sits at two per cent of the total Australian population.
Aboriginal and Torres Strait Islander prisoners account for 28 per cent (11,849 individuals) of the total Australian prisoner population.
Making matters worse, when Aboriginal and Torres Strait Islanders are sentenced, the sentencing type can be dependent on where they reside.
For convicted Indigenous offenders in the Northern Territory, the most common sentence type is custody in a correctional institution, according to ABS stats, with 62 per cent (2,922) of all sentences given to Aboriginal and Torres Strait Islanders resulting in jail time.
In contrast, a majority (64 per cent) of those proven guilty and identifying as Aboriginal or Torres Strait Islander in New South Wales were sentenced to a non-custodial order.
Due to the increased likelihood of incarceration in the Northern Territory, it comes as no surprise that median sentence lengths are lower, and sit around three months up North, compared to the average 12-month sentences for Indigenous persons in New South Wales.
Disturbingly, the Law Society of New South Wales also puts the proportion of the state's juvenile detention population which identifies as Aboriginal and/or Torres Strait Islander at 51 per cent.
Amnesty International goes as far to suggest that if you are an Indigenous child in Australia, you are 25 times more likely to be imprisoned that your non-Indigenous classmates, and says that while Indigenous children make up one in every 15 Australian children, they make up half of all children in youth detention centres Australia-wide.
Cases in point
While the majority of the statistics presented above go unnoticed by the general population, the past six months has seen several happenings enter the mainstream media domain and shine an emotive light on the inequalities in a way that statistics simply haven't been able to do.
Back in 2017, the Law Society of WA wrote a briefing paper, 'Issues that contribute to the incarceration of Aboriginal and Torres Strait Islander women in Western Australia', that noted significant criticism towards the areas of law that have a disproportionate effect on Indigenous women.
Mandatory sentencing, imprisonment for fine default, and offences relating to driving without a licence were the three named.
In January this year, a crowdfunding campaign was started by the founder of advocacy charity Sisters Inside, Debbie Kilroy, to clear the debt of Western Australian women who were imprisoned, or were at risk of being imprisoned, for unpaid court fines.
While existing as an endemic issue for Western Australia for a number of years, it wasn't until this year that adversarial momentum really took off in condemning the legislative practice.
The GoFundMe page says "Western Australia's response to poverty and homelessness is imprisonment".
"Single Aboriginal mothers make up the majority of those in prison who do not have the capacity to pay fines," it continues, pointing out that such women "are living in absolute poverty and cannot afford food and shelter for their children".
"They will never have the financial capacity to pay a fine," it sombrely adds.
The campaign made international headlines and has been shared more than 16,000 times online, and at the time of writing, raised nearly $375,000 for the cause.
It has enabled the charity group to pay the outstanding warrants of 96 Aboriginal women, a combination of whom were behind bars or facing jail time, and placed renewed pressure on the state's lawmakers to repeal the "discriminatory" laws.
In response, the Law Council of Australia and the Law Society of Western Australia wrote a statement condemning the practice, saying "reports Aboriginal women have been arrested for unpaid fines while trying to report domestic violence situations are unacceptable".
Only two months prior, a riot at the Northern Territory's Don Dale Youth Detention Centre saw a worker injured and the facility closed for a number of days for repairs after more than 20 detainees escaped from their cells, set schooling facilities on fire and used angle grinders to cut fences in efforts to escape.
As a result, eight youths were charged with taking part in the riot, engaging in violent conduct and attempting to escape.
It wouldn't be a stretch to say that the incident was the result of a build-up of months of tension, after the June 2018 revelation that all youths incarcerated in the Northern Territory were Aboriginal, heightening ideologies of discrimination, and the Royal Commission into the Protection and Detention of Children in the Northern Territory's earlier recommendation that the Don Dale centre be shut down due to its lack of suitability for children.
For the Northern Territory Law Society's president Maria Savvas, "the recent incidents are an all but inevitable outcome of confining these children, most of whom are on remand and presumed innocent, in deplorable conditions little better than those which led to the royal commission being called in the first place".
"It is unacceptable and arguably unlawful to detain children for lengthy periods in overcrowded cells without access to sunlight, exercise, and meaningful education or other structured activity," she says.
The government's positioning
According to the 2019 Closing the Gap Report, making communities safer depends on the capacity to address entrenched disadvantage and the factors that drive violent and criminal behaviour, and reduce the over-representation of Indigenous Australians in the child protection and justice systems.
The report, from the Department of the Prime Minister and Cabinet, considers the Australian government's own role in addressing the underlying social and economic factors that see Indigenous Australians more likely than non-Indigenous Australians to be incarcerated and experience child abuse and neglect, family violence and other forms of violent crime.
While considering the need for investment in crime prevention and early intervention activities that supplement state and territory efforts, and for ensuring that Indigenous Australians have access to justice, action points aimed at the justice system appear disappointingly vague, with omission of the justice system as a focus area from the report's main body.
Chapter 7's 'Translating Policy into Action' mentions government funding of community night patrols and services "to support adult prisoners and young people in youth detention facilities reintegrate into the community, return to their families and break the cycle of reoffending", but not how, when, or in what capacity this works.
It flags custody notification services (CNS) as something to ensure legally mandated provision of fundamental legal advice and a welfare check for all Aboriginal and Torres Strait Islander people taken into police custody, but only in "some states and territories".
The report showcases communities across Western Australia, Aboriginal and Torres Strait Islander Australians taken into police custody soon having access "to culturally appropriate, holistic wellbeing support" through CNS processes.
The "important safeguard" is the result of a partnership between the Australian Government, the Western Australian Government and the Aboriginal Legal Service of Western Australia.
This will be in addition to the CNS currently delivered in New South Wales by the Aboriginal Legal Service NSW/ACT and the Northern Territory CNS to be delivered by North Australian Aboriginal Justice Agency from 2019, the report said, highlighting the Australian Government's offer of introductory funding for CNS to all jurisdictions.
The Australian government also says in the report that it is "working collaboratively with the Northern Territory Government and community sector to support reforms arising from the recommendations of the Royal Commission into the Protection and Detention of Children in the Northern Territory".
It has also set goal targets for each state and territory to "reduce the rate of Aboriginal and Torres Strait Islander young people in detention by 11-19 per cent and adults held in incarceration by at least 5 per cent by 2028".
Can law do better?
The government's diplomatic and directive stance stands in stark contrast with the "dramatic and urgent" whole of government response requested by the Law Society of New South Wales president to address systematic challenges which have caused "overwhelming rates" of incarcerated Indigenous youths on a state and national level.
Elizabeth Espinosa says there is need for "a multi-pronged early intervention approach that recognises the connection between indigenous entry into the juvenile justice system and Indigenous overrepresentation in the care and protection system", which also takes into account the young people who fall away from the education system.
Closer to the crisis' heart, the sentiment is not dissimilar in its plea for parliamentary aid.
The Northern Territory Law Society is continually expressing disappointment and concern on what it calls a "broken" youth justice system, despite acknowledging that just last year it was heartened by the territory's positive response to the Royal Commission into the Protection and Detention of Children in the Northern Territory.
Ms Savvas is calling for "political will and the courage to stick to the principles and program laid out for us by the royal commission".
"It is imperative that the government redouble its efforts to get out and keep children out of detention," she urges.
With respect to the use of imprisonment for unpaid fines, the Law Council of Australia and the Law Society of Western Australia have requested the legislation's removal, citing the disproportionate impact on "people who experience significant disadvantage, including Aboriginal and Torres Strait Islander people, and particularly Aboriginal and Torres Strait Islander women".
Calling such measures "inherently dysfunctional and ineffective", both bodies consider that "any further delay in repealing laws that permit imprisonment for fine default will only result in further injustices", and instead has recommended the adoption of work and development orders as alternative models for addressing fine defaults.
Urging the issue be "dealt with immediately", both the Law Council and the Law Society of Western Australia have made an offer of full support to the state's attorney-general in dealing with the situation.
But with all the statistics, the continued use of Don Dale Detention Centre for the containment of youth offenders (even those on remand), and the lack of any legislation to prevent people from incarceration for not paying any fines, check the definitions at the beginning of this story again.
It's broken.
This article originally appeared in the Lawyers Weekly print magazine - April edition.