Better late than never mature-age graduates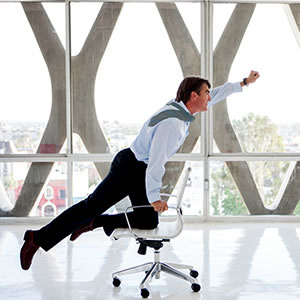 It's two in the morning and Lawrence Lau is surrounded by law readings and energy drinks, trying not to think about the next day's 6am start
Lau is a 46-year-old law student who works full time as an accounts and compliance manager. He is one of many mature-age people looking to start right at the bottom after a successful career in a different field.
For every lecture Lau attends, he is expected to add two hours of readings to his schedule. "Does anyone really do it? No, we don't have time… It's just impossible," he tells Lawyers Weekly.
Like other 'late-show' law students, Lau juggles work commitments with part-time study and feels he will be disadvantaged when it comes to procuring employment when compared with younger graduates.
'Dinosaurs' in the danger zone
Age discrimination persists in the professional services sector despite growing awareness of the benefits of diversity in the workplace
According to Lau, mature-age law graduates are less attractive to employers because they are seen as more rigid in their work practices and less willing to work long hours.
Graduates over 30 years of age often have children and are in greater need of flexible work options. 
Lau believes the initial application process for graduate programs is probably free of age discrimination but "when it comes to a [face-to-face interview] I think you do have a glass barrier there because a lot of law firms would prefer younger, less moulded talent so they can mould it themselves".
"[Law firm] promotions say they hire on merit; I think, 'well, maybe' but at the end of the day they do want someone they can shape," he adds.
Lau does not believe that a greater knowledge of how to navigate the world of employment gives mature-age students an edge over younger competitors.
"I think, all in all, I'm a little bit disadvantaged … If someone is looking for a mature-age person they are looking for someone that has three to four years' law experience.
So you get into a … danger zone where … your age bracket is representing you annoyingly as someone that may have more knowledge than you have," he says.
Neville Carter, CEO and principal of the College of Law, said he can understand why an employer might prefer younger people who are not yet set in their work ways and are more adaptive to firm work practices and culture. However, he was careful to add that he had no statistics, information or anecdotal evidence to demonstrate this.
Mature-age graduates (those over the age of 30) make up 22 per cent of graduates at the College of Law – a proportion that has remained relatively stable over time, according to Carter.
This statistic is consistent with the student membership of the Law Institute of Victoria, of which 24 per cent are over 30 years old.
When asked why mature-age graduates face set-backs in finding work, Carter says, "I'm not sure that they [do].
They definitely come with a quite different mindset to their younger confrères. Atypically, they have very clear thinking about what they want from the world of work in law and quite specific career intentions.
"At a time of downturn in the employment market for law graduates, generally the younger, more flexible, less expectant law graduates may well, for this reason, be more successful in finding work, particularly in fields outside mainstream legal practice."
The road less travelled
Despite the perceived barriers to entry, mature-age people do make it into graduate programs at large law firms – and 49-year-old Helen Cousins is one of them.
Cousins has five children and is launching into law on the back of a highly successful career as a medical researcher. She completed three clerkships before joining Herbert Smith Freehills as a graduate.
Cousins' experience challenges the common conception that graduate programs are inappropriate for mature-age graduates. "I'm loving it, I'm having an absolute ball," she says.
The advice Cousins received from career advisers at Monash University was to aim for in-house roles that might give more recognition to her previous career.
"[Career advisers] weren't sure that a graduate program would suit someone my age. They thought it was probably going to be geared towards the younger [graduates], fresh out of university," she says.
However, Cousins felt that starting in a large firm would give her strong legal training. "When I put my clerkship application in I got responses pretty much across the board from the top-tier firms and not much interest from the mid-tier firms," she says.
She guessed that this might have something to do with larger firms having the capacity and desire to absorb diversity.
"I feel like I've been very lucky and my background has helped me because the person that interviewed me … was in intellectual property and, because I have a science background associated with IP, that was definitely an advantage," she adds.
Cousins said the diversity of larger firms makes it easier for graduates of all ages to feel at home. She can pick and choose from work social activities and is never left feeling judged adversely for not participating.
Supervisors tailor activities to the individual and give mature-age people "a little bit more freedom to show some initiative" and have "slightly different expectations", according to Cousins. 
Lau, on the other hand, thinks mature-age graduates might get bored easily in a large law firm graduate program and that working with an in-house team or at a small to medium-sized firm might be less frustrating.
He does not believe that graduate programs at large law firms are structured to make the most of the talents of mature-age people.
"Personally, if I was put through those programs, I wouldn't have a problem but … when you take on someone with more life experience, their contribution to your company will be a little bit different. If you were to get someone with more experience, you want to harvest that, and the way to harvest that knowledge may not be the same as the way you would in an undergraduate program," he says.
"I think I would be looking at a very different audience of employers than those of the [younger] graduates."
Process not prejudice is to blame
Paul Melican, a 31-year-old law student at RMIT, acknowledged that individual bias against mature-age graduates could be an issue, but argued that systematic problems within the corporate firm graduate systems were more likely to be affecting the recruitment of older graduates.
"[Clerkships] are inherently designed to suit the needs and to attract full-time students who [can] complete these programs on a full-time basis, attend meetings at any time of the day and completely dedicate themselves for a period of time," he says.
"Alas, the mature-age student, often completing their course on a part-time basis, is unable to complete multiple clerkships, volunteer at community legal centres and take advantage of extracurricular activities … such as placement, competitions and exchanges, which are all things that firms look for in deciding whom to offer their graduate positions to."
Melican is a part-time student with two children who manages to find time to act as vice-president for finance at the Australian Law Students Association (ALSA) and president of the RMIT Law Students Society while also working as a business consultant.
In Melican's experience, the employment prospects of mature-age law students are actually better than those of younger students because they are interested in pursuing more varied careers.
Mature-age graduates can combine their industry knowledge with a specific focus on a particular area of law to take advantage of careers beyond corporate law, he said.
Why law?
With such uncertainty around employment prospects and high levels of competition for scarce graduate jobs, one might wonder why anyone would ditch a strong career and go back to university to start from scratch.
The financial burden of later life study is high: a three-year juris doctor (JD) at the University of Sydney cost between $29,376 and $98,640 in 2013.
According to Carter, many mature-age graduates have maxed out Fee-HELP doing previous degrees and pay their way through law school by drawing on savings. This further increases the expectation of and need for employment in jobs with higher remuneration.
For Lau, it was the thirst for knowledge that drove him to seek a qualification in law. "I have a need to know," he says.
"[In] other areas such as IT, IT management, finance and accounting, I came in contact with law and I found considering people's rights and obligations … particularly interesting. That knowledge is very powerful. It could be put to good use helping the general public. I find that to be a very motivating notion for me."
Cousins said she supported her further education with help from a Commonwealth-sponsored scholarship by paying fees upfront and deferring what she could not afford.
"I think [mature-age graduates] have geared themselves for financial challenges because they had been in jobs where they were fairly senior, their salaries were quite senior so even coming back to work at this junior level their salary is significantly lower than it used to be," she said.
Even though more than one in five law graduates are mature-age, employers do not seem to be giving due credit to the decades of experience working, studying, raising children and travelling that older lawyers carry into their new careers.
But, regardless of the setbacks and personal sacrifices, law continues to attract people from gainful careers – showing the enduring appeal of the legal profession.