The start-up cradle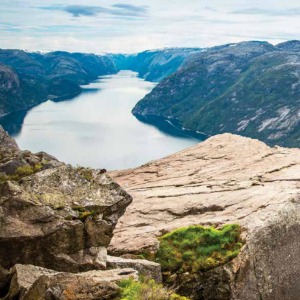 Nordic entrepreneurs are squarely focused on global growth, which has driven busy cross-border activity and a healthy demand for international lawyers with multilingual abilities.
The majesty of Scandinavia's natural environment conjures a perfect sense of the dawn of time.
From prehistoric fjords that plunge through the pristine mountain-scape into the depths of the ocean below, to a spectacular offering of volcanos and glacial lakes, Nordic countries are home to some of the most ancient and pristine landscapes.
However, the group of nations that comprises Sweden, Norway, Finland, Iceland and Denmark has a distinctly outward-looking modernity.
The birthplace of Spotify, Scandinavia is today considered one of the world's foremost start-up centres – leading the way in technology and telecommunications innovations – and a safe space to do business.
The rise of Nordic start-ups with international growth in mind from the outset has spurred consistent cross-border activity and a healthy demand for international lawyers.
The past 15 years have seen law firms respond in kind, with a number of local and global outfits merging, creating more opportunities for foreign lawyers to undertake project-based secondments in Europe.
Open for business
Marianne Ramel is a banking and finance partner and head of DLA Piper's China desk in Stockholm.
With many years spent working in the UK and China, the dual-qualified Swedish-English solicitor points to two key reasons the region is favoured for international business.
In her view, accommodating conditions for foreign business have been fostered by a combination of encouraging local regulations and the guarantee that transactions will be executed in English.
"I normally tell Chinese clients who are looking to invest for the first time abroad that Sweden is the perfect place … because foreign investments are encouraged and there are hardly any foreign investment restrictions," she says.
"It is a rather anglophile business culture and people are generally straight-talking."
The Nordic culture of polite, forthright dealings is also highlighted by Finnish-based Jori Taipale, regional head of international firm Bird & Bird.
According to the M&A specialist, a friendly but direct approach to business is particularly attractive to entrepreneurs looking for a market in which to launch their global expansion.
"It's a good market to grow. The political climate is stable amongst all these countries and the tradition is that everyone understands that to be competitive and to stay competitive, we need to be international, we need to encourage our businesses to expand," Mr Taipale says.
Having practised law for more than 20 years, he considers the Scandinavian market's transformation over the past two decades as a shift in focus from domestic to international ambitions. Nowadays, there are few firms operating in Scandinavia, even among national law firms, that do not offer cross-border services, he says.
"Back in 1993, law firms were much smaller and you could say that in all Nordic countries they were local. They have grown a lot and internationalised. Even [existing] local firms have adapted; there are some very good local firms who [now] do a lot of international work," Mr Taipale says.
"It is a competitive market. In the past 20 years many things have changed. Cross-border M&A has, first of all, become a lot more international, private equity-driven."
Taking tech to the global market
While Scandinavia's business transactions are necessarily tied up with belonging to the trade community of the European Union, a burgeoning technology industry and a rapidly evolving start-up space have flung open the gates to international projects.
Sydney lawyer Bridget Edghill is a senior associate for Bird & Bird and travelled to Sweden to complete a three-month secondment with her firm last year.
The main focus of her work in Stockholm was a legal project that involved the global expansion of a company with headquarters in Sweden.
According to Ms Edghill, agile start-ups with international ambitions have become a hallmark of business growth in the region.
"There's so much innovation going on in Sweden and lots of emerging technologies. The start-up culture is phenomenal. You very much get the sense that they are at the cutting edge of progress throughout the world," she says.
"I think there is so much innovation and progress coming out of Sweden that makes it a very exciting time, particularly for lawyers, to be involved in assisting those emerging markets and working in ways to facilitate that progress."
Mr Taipale agrees with the sentiment that start-ups are advancing the frontiers of the technology and innovation sectors in the region. He says sector growth, coupled with a desire to take business to the world, is generating plenty of work for lawyers in telecommunications and intellectual property in particular.
"On the technology side, the Nordic countries are especially strong in things like IP, telecoms [and] gaming industries," Mr Taipale says.
"We have some of the leading hubs in the world and these require a lot from the lawyers too. It's a constantly evolving area as you need to invest to stay ahead of the game."
Ms Edghill adds that outside secondments, private lawyers with a technology background looking to enter the Scandinavian market will have an edge.
Competition in a multilingual crowd
All three lawyers suggest that the anglophone convention of transacting in the region is a drawcard for more and more foreign players; however, the demand for lawyers who exclusively speak English tends to be limited to the global firms.
As Nordic countries are multilingual and operate in domestic civil systems, Scandinavian-based firms tend to seek lawyers with strong corporate and transactional skills who are also fluent in the local language.
According to Ms Ramel, competition for work is fierce and landing a job as a lawyer in a buyer's market is easier for those who have qualified in EU states.
She suggests transactional lawyers with general experience working on big deals will be considered head and shoulders above the rest.
"There will also be a marketing advantage to having worked on transactional deals, such as banking and M&A, in a larger common law jurisdiction when applying for a job in Sweden," she says.
Ms Edghill experienced first-hand the standard of English proficiency boasted by her colleagues in Sweden.
She highlights that while this made working in the office and making friends very easy, there were components of work in the firm that required lawyers to have a handle on the local language.
"They still do a lot of work in Swedish as there are a lot of Swedish companies; however, a lot of their companies are multinationals," Ms Edghill says.
"And, as they explained to me, they do a lot of work in English because [Sweden is] the only country that speaks Swedish – they would be completely alone and isolated if they did not have such excellent English skills."
For Mr Taipale, language is the big issue for foreign lawyers aiming to make a long-term attempt at a legal career in any Nordic country. They face stiff competition from multilingual locals, as the languages of Scandinavia can be difficult to master.
"Unfortunately for [foreign] lawyers, to be fluent in the local languages is still quite important," he says.
"A lot of work, except for international arbitration, is in the local languages, as are meetings. Even though the notes and contracts coming out of meetings are written in English, the expectation for lawyers many times is that you will be fluent in the local language.
"If you are on secondment it will be much easier to survive with just English, but in law firms there are many things that need to be done in local languages."