Lawyer's desert dash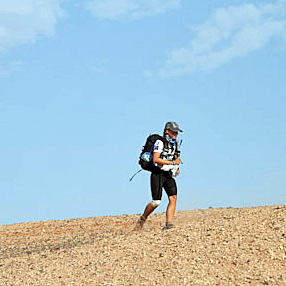 A graduate lawyer from Baker & McKenzie's Melbourne office is today (24 July) on the second day of a non-stop solo 379km run across the Simpson Desert.
Most people can't imagine running for a few hours without stopping, let alone a few days, but Samantha Gash, 27, is aiming to go the record-setting distance in between three-and-a-half and four days.
If she does, she will become the youngest Australian to complete a non-stop run through the desert. 
"I call it living while running," said Gash.
She's running on her own but has a crew of eight trailing her in two cars. The crew includes her boyfriend, who is a medical doctor and fellow ultra-runner, and friends from law school.

Gash aims to raise $69,000 for a fully-equipped Playscheme vehicle that will travel to remote and socially-disadvantaged communities in Australia to provide education-based programs for young children and their parents. 

The project is facilitated by Save the Children, which Gash chose because it is well established internationally but has a "grassroots approach".
"I care a lot about education, youth and empowerment through the vehicle of adventure, so this was a great way to tie those together while doing something that I love," said Gash.
It's a challenge that has been on her radar since before she completed her first desert ultra-marathon in the Atacama Desert in Chile in 2007. Since then she's raced across the Sahara Desert and China's Gobi Desert, 250km across Antarctica and 220km through the Himalayas.
However, this is her first self-contained expedition. There are no other runners and Gash has organised every component of the run herself.
"I just wanted to do it myself to start to bring all the things together and I think that comes from my interest in law, where you see things as the big picture, holistically. You've got nutrition, you've got the gear, the fundraising and working out the route and plan and the media," explained Gash, who has planned her journey almost by the kilometre, taking into account the below-freezing temperatures at night and the risk of attack by dingo.
"The law's helped me to organise and just see how multi-dimensional things can be. There's also an aspect on the entrepreneurial side; I've been speaking to try and raise money for the charity. AMP is my title sponsor so they're helping raise money as well, so its collaboration and networking," said Gash, who has raised $23,000 already.
Gash must constantly eat while running; she will have a 50ml protein shake every 30 minutes to ensure she does not go into her reserves.
By around 160km, she expects to lose the ability to have rational thoughts.
"You don't want to eat anything when you push your body that hard, so my crew actually has to be rested to take over all my decisions for me. You get to a point where you become a bit childlike." said Gash, explaining that it's happened to her before, albeit at 6000 metres altitude and at almost three days without sleep.
When Gash ran the Himalayas last year, 30 growling wild dogs surrounded her in the middle of the night.
"I was petrified. Everyone knows about my fear of dogs," said Gash, admitting she has a "sports guru" helping her deal with the fear.
"There are camels and dingos in the Simpson, you don't know what they're going to do, so I have a walkie-talkie and my crew have satellite phones. I'm a safety queen."
Gash raced in the ill-fated ultra-marathon in the Kimberly Desert last year, when Kate Sanderson and Turia Pitt were badly burnt in a bushfire.
Gash has organised a two-lap race, called Ultra Spirit, around The Tan in Melbourne's Royal Botanical Gardens on 1 September this year to raise funds for both girls.
"I'd love as many lawyers to participate as possible," she said.
Working to live
Gash is currently on rotation in Bakers' construction team. She admits it took her two months to adjust to full-time work and the reduced flexibility for endurance running.
"At the end of the day I just fit in what I can do. The reason ultra-marathons are good for me is there's so much mental discipline required and the need to be positive. There's going to be a point where my body gives up and it's so painful and then it's that mental will that will push me to the next point," explained Gash.
She took up ultra-running after completing a marathon with a girlfriend and realising she "probably couldn't have done it if it wasn't for her".
Gash runs most mornings and trains with different Bakers' colleagues at lunch time.
"You get a better perspective of the legal work when you're doing other things that are very challenging as well and you just get the work done. I enjoy my work but I don't live for my work, I work to live," said Gash.
She had already called the pub where she will finish the run to find out what champagne they have on offer, but will be back at work on Monday (July 30).