Clutz approves extra leave for ADF members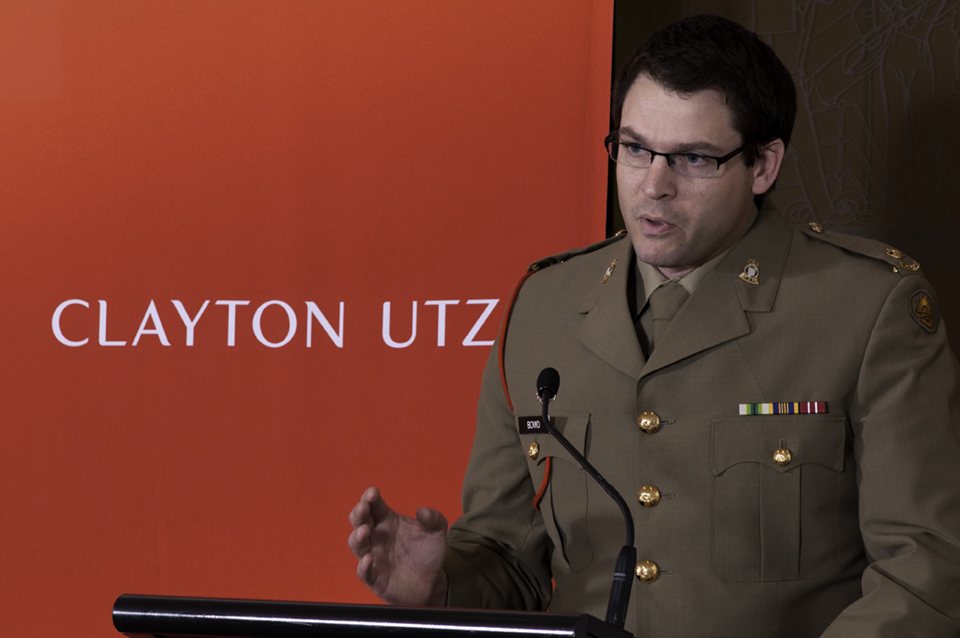 Clayton Utz has granted an extra four weeks leave to staff that are associated with one of its major clients.
On Tuesday (14 August), Clayton Utz formally launched its Defence Force leave policy for staff that are reservist members of the Australian Defence Forces (ADF).
The ceremony was held in the Courtyard Gallery at the Australian War Memorial in Canberra, with leading figures from the firm and the Department of Defence – a key client of Clayton Utz – attending.
As part of the policy, the seven current Clayton Utz staff members that are army reservists will be entitled to 20 days' leave, with half of that paid leave.
Spouses or partners of serving ADF members who are deployed overseas for four months or more are also eligible for one week's paid leave during the term of their partner's deployment. There are currently at least 13 Clayton Utz employees that have spouses or partners who are serving as full-time members of the Australian Army, Navy or Air Force.
Speaking to Lawyers Weekly, Clayton Utz senior associate Reuben Bowd (pictured speaking at the policy launch) said that the policy is not just about cosying up to a key client.
"I do think the underlying motivation behind the policy is to support the services and staff that are reservists," said Bowd, a current army reserve member. "But, at the same time, it has to be of a mutual benefit to the firm to maintain some sort of relationship and ongoing interface with Defence on a first-hand basis, with its lawyers being able to have first-hand military experience."
Bowd added this experience and interaction between Clayton Utz reservists and the ADF can only improve the advice that the ADF receives from Clayton Utz. "It can only benefit Defence in that way as you will get lawyers that are better informed as to what their client's needs are."
David Feeney, the parliamentary secretary for Defence and a key figure in the ousting of Kevin Rudd as prime minister, described the agreement with the firm, where Rudd's son Nicholas is employed, as being "unique in its leadership and generosity".
Clayton Utz was one of seven private practice law firms named on all four panels of the Federal Government's Legal Services Multi-Use List in June.
Senior officials from the military that attended the ceremony included: Air Vice Marshal Gavin (Leo) Davies, CSC; Deputy Chief of Air Force, Brigadier Marcus Thompson; William Sowry, the  Deputy Head of Cadets, Reserves & Employer Support Division at the Department of Defence; Brigadier Andrew Bottrell, Chief of Staff, Army Headquarters, Rear Admiral Trevor Jones, Deputy Chief of Navy and Commander Fiona Sneath from the Royal Australian Navy.
Military a breeding ground for law
Having a military background has certainly assisted Bowd, currently on secondment at NSW For Transport, in his legal career.
He served as a full-time member of the military for 13 years, including a stint as a logistics commander with the army in the Solomon Islands and as a training and operations officer of reservists in Australia.
He was admitted to practise in October 2008 and appointed a senior associate in April 2010.
"That was quite a quick rise, but I guess I attribute a significant part of that to having life skills, training and experience that other lawyers just leaving university in their 20s are yet to develop," he said. "I found the skills I had [developed in the army] highly transferrable into business... the management and leadership experience, combined with people experience, is something lawyers straight out of university don't necessarily have."
As a reservist, Bowd is currently second-in-command of the 5th Combat Service Support, a member of an inquiry established to investigate complex and serious matters involving Defence, and an assessor of cadets and officers training at the Royal Military College of Australia.