The truth about work-life balance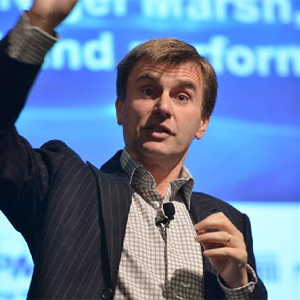 A leadership expert has slammed as dishonest the claim that anyone can achieve work-life balance, arguing that certain career and life choices are fundamentally incompatible.
Author and motivational speaker Nigel Marsh (pictured) kicked off ACLA's annual conference last Thursday (8 November) by asking delegates to consider whether their work-life balance goals are achievable.
"I see people setting themselves up for failure because they have unrealistic expectations," he said.
Marsh claimed that work-life balance generally can't be achieved on a daily basis, particularly by professionals with demanding jobs. So he advised delegates to elongate the timeframe in which they judge the balance in their lives.
"It's not reasonable to expect to be home for the kid's tea every day when you're running [a number of] offices ... but it is reasonable to say I want to be meaningfully involved in my children's life, and then judge it over a month," he said.
He challenged lawyers seeking work-life balance to engage with at least three of what he believes are the four parts of the human soul: the intellectual, the physical, the emotional and the spiritual. Engaging with only two – the physical and the intellectual – will result in the "nightmare of the super-fit workaholic", he added.
"Some of the least balanced people I know are the fittest."
Marsh also criticised life coach Anthony Robbins, who he describes as the "granddaddy of positive thinking". He warned delegates that Robbins and other positive-thinking gurus are "peddling easy shortcuts to permanent bliss".
"Life is a constant struggle," he said, grimly.
Coaching legend Dr Ric Charlesworth AM, who also works as a sports and performance consultant, echoed Marsh's sentiments in his keynote at the conference. He urged delegates to look within themselves in the search for happiness, rather than rely on others for guidance.
"Finding what is the best thing to do for you, finding what fits best with your life, is the essence of happiness," he said.
Charlesworth, a former Australian hockey captain and Western Australian cricket player, is also a medical doctor and former politician.
He told delegates not to be disheartened if it takes time to discover a suitable life path, admitting that his varied career demonstrates that, like many, he has "gone through the process of trial and error".
Currently coaching the Australian men's hockey team, the Kookaburras, Charlesworth claimed that business can learn from sports, particularly the latter's focus on training.
"People in business say they can't spend time on training [but] every day should be a training day at work," he said. "Every situation ... is a training situation that you can learn from and improve – that's the environment we work in."
Regular feedback is another area where sport excels, according to Charlesworth. He explained that athlete performance improves because they are measured on a weekly and even daily basis, which is a rarity in the business world.
Charlesworth capped off his keynote with advice for those delegates who also manage their legal teams: show your staff that you care.
"If the people who work in your office think you have their best interests at heart and value your opinion then you're like the ideal coach who can lead with real purpose," he said.