Corrs CEO chairs APEC meeting in Russia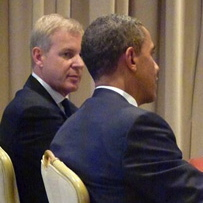 Corrs Chambers Westgarth partner and CEO John Denton chaired a series of meetings in Vladivostok and Moscow as part of the Asia-Pacific Economic Cooperation (APEC).
Denton (pictured here with Barack Obama) participated in the annual dialogue with APEC leaders and led the finance and economic working group of the APEC Business Advisory Council (ABAC) in a private meeting with China's president Hu Jintao and President of Russia, Vladimir Putin.
The Corrs CEO, with five other business executives, hosted the round-table that also included the Mexican President, Felipe Calderon, and the Prime Minister of Papua New Guinea, Peter O'Neill.
The discussion focussed on Chinese economic trends, green technology initiatives in Mexico and food supplies in Papua New Guinea.
He also moderated the first session of the APEC CEO Summit on "Encouraging SMEs' access to finance", participated in the APEC Ministers' meeting and chaired a working lunch with Finance Ministers and key ABAC members on "Public - Private Partnerships and the development of the APEC region's financial system".
In the meetings, the Ministers approved ABAC's proposal to develop an Asia-Pacific Financial Forum and further encourage regional financial market integration. A Symposium will be held in Sydney in early 2013 to discuss the way forward.
The APEC forum is where business executives mix with political leaders to share views on the regional economy.