Running for a reason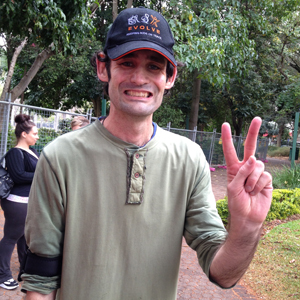 A Brisbane lawyer who ran 110km overnight at the weekend said he is glad his run didn't go smoothly as it helped further symbolise the struggles endured by victims of domestic violence.
Minter Ellison special counsel Robert Reed ran 110km from the Sunshine Coast to Brisbane on Sunday night (30 September) as part of the CEO Challenge Race, which aims to raise awareness and money to put an end to domestic violence.
Reed ran 110km to symbolise that 110 people lost their lives as a result of domestic violence in Australia last year.
Reed said the run was "fun and symbolic also. It wasn't as straightforward as we thought".
Some of the hurdles that Reed encountered included: running along many major roads with no footpaths in the dark with only his head torch to light the way; winding up running in a circle at one point; stumbling across a bunch of sleeping kangaroos in the middle of the night, and losing his glasses when he left them on top of his support car at the 75km mark.
Reed admitted that these obstacles did make the challenging run harder but added that "it was never meant to be a fun run ... [it was about] carrying a message and symbolising what those in abusive relationships go through and to stand up and say it's not right".
Reed started the race at Caloundra on the Sunshine Coast at 6pm on Sunday night and arrived at the finish point in Brisbane's Botanic Gardens at 10.30am on Monday morning – having spent 16-and-a-half hours running. Despite this, he was still at his desk first thing on Tuesday morning.
"I had a horror night [on Sunday]," he said. "[But a horror night is] what most people, mostly women, go through in abusive relationships ... and they front up to work the next day and can't even tell people what they've been through.
"So, if I could get out of bed I wanted to come into work the next day just to ... add to that message."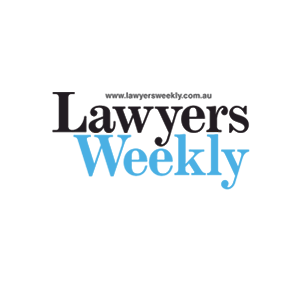 Reed wasn't alone for the whole run as he was joined for the last 10km by a group of about 20 people, including a number of his colleagues from Minters, including partner Dan Williams (pictured left with Reed). Reed explained that "that was meant to symbolise the hope that's at the end for people in those [abusive] relationships".
Reed, who helped to establish and currently coordinates Minters' Community Investment Program (CIP), said he became passionate about raising awareness about domestic violence when he first became involved with CEO Challenge several years ago. He was played recordings of real 000 calls, an experience he said made him realise he "really wanted to do something about it".
Firm backing
Reed praised the support he received from Minters while he was preparing for the run, saying the firm was "very flexible". He added that the firm is generally very supportive of any fund and awareness-raising efforts and the CIP program in general: "I'm really fortunate that I've always been supported in these ideas and the things that I do and [Minters] see the value in it. It's fantastic."
Reed's support team on the run was also made up of two Minters colleagues, graduate Christina Jackson and personal assistant and secretary Gemma Williams, who stayed awake all night while he ran and who Reed said he "couldn't speak highly enough of".
Reed did admit that the training for the run was "a bit tiring".
"Getting up at four o'clock in the morning and doing a 40km run ... and coming in and doing a day's work ... it was hard.
"[But] if it got too tiring I thought of two things ... that it's my purpose in life at Minters to do this kind of thing ... and I am doing this for a really important and worthwhile reason."
This is not the first ultra-run Reed has done – he completed a 100km run from the Gold Coast to Brisbane last year, which was inspired by the disasters that had occurred in Brisbane, New Zealand and Japan, and raised $8000 for Worldvision's One Earth program.
Reed has so far raised more than $10,000 for CEO Challenge, mostly through his efforts doing this run. He said he hopes to raise some more money before the Race ends in November, but added: "I'm not going to run again."
To donate to Rob's Everyday Hero page click here. For more information about the CEO Challenge click here.
This article first appeared on www.lawyersweekly.com.au