Corr' blimey: A dedication to diversity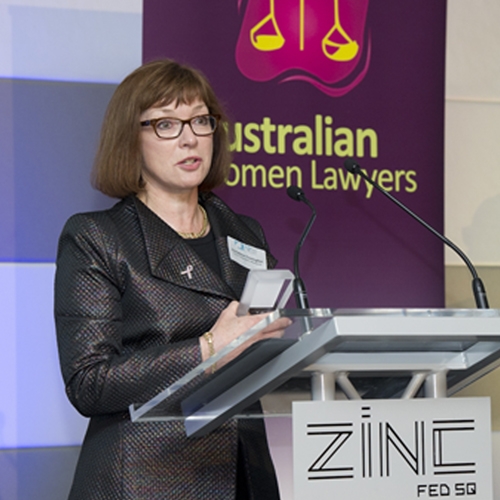 The long-standing partner and chair of Corrs Chambers Westgarth's Diversity Council has spoken about the richness that practising law can bring to parenthood.
Christine Covington (pictured), a planning and environment lawyer with Corrs, was on hand to collect the Negocio Resolutions Law Firm Diversity Award on behalf of the firm at the inaugural Lawyers Weekly Women in Law Awards.
"Motherhood, parenthood is the greatest gift we can have but a great deal of time is spent in studying law and for so many of us, it's just such a fascinating profession to be involved in," said Covington.
"Although we're parents until the day we die; to my mind, you bring a great richness to your role as a parent, in practising law and indeed participating in the workforce in any way... to be able to enjoy the disciplines of the practice of law and the challenges [it] brings is really a great blessing and something that I think should be grabbed with both hands," she added.
Corrs CEO John Denton has long asserted that the firm's 2015 Diversity Strategy is "more than just lip service".
Now, after taking home the Diversity Award, Denton and Corrs have prized evidence that the bold strategy to retain female talent and remove barriers to their progression to senior positions is working.
Corrs, recipient of the EOWA Employer of Choice citation for six years running, has made significant strides towards it diversity goals, notching up several important achievements and implementing some key initiatives and programs to further enhance the professional advancement of its female staff.
Currently 33 per cent of its board, 22 per cent of its partnership and 64 per cent of its business service management team are female.
The firm has increased the number of female partners at the firm from 18 per cent in 2010 to 22 per cent this year, while 57 per cent of its new partner promotions over the last two years were woman.
The firm's diversity achievements include being the first national law firm to launch an ASX-compliant diversity policy, which set public targets to increase its proportion of women in the partnership to at least 35 per cent, with 40 per cent women in senior management roles, by 2015.
Denton stated that by setting these bold targets "the firm can be held accountable" to its employees.
In January last year, Corrs became one of the first firms to increase parental leave entitlement from 14 weeks to 18 weeks, while it also decreased the qualifying period of service from 18 months to 12 months.
The firm has also implemented new guidelines that will form the foundation of its [email protected] program, designed to promote flexibility in the workplace.
Corrs remains intent on making its diversity polices as inclusive as possible, for example, by updating its parental leave policy to include adoption, single-parent families, blended families and same-sex couple families, and to recognise the impact of accessing fertility programs such as IVF.
Corrs is the only law firm to sponsor and partner with Melbourne Business School in the Gender Equality Project – a ground-breaking research project aimed at identifying and removing barriers to gender equality within business as well as developing strategies to improve gender balance in the workplace.