Banking lawyer is best in-house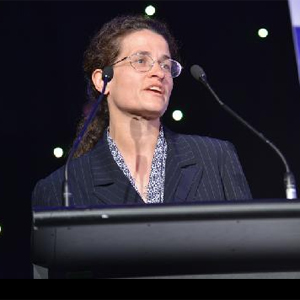 The head of group legal at the Adelaide and Bendigo Bank credited her team with the ideas that won her the coveted 2012 Australian Corporate Lawyer of the Year Award.
Maria Polczynski (pictured) was honoured at the annual awards event for in-house lawyers held in Coolum, Queensland last Thursday (8 November). In her acceptance speech, Polczynski said she was humbled to have won the night's top prize.
"Many of the things I've introduced or supported haven't been my idea, they've been the ideas and thoughts of the team and I've been in the lucky position to facilitate them all."
Judges commended Polczynski, who manages the bank's internal team as well as its institutional panel, for making a "real commitment towards making after-hours work the exception rather than the norm".
Since joining the bank in 2009, she has introduced flexible work options and led the bank's transition to fixed-fee, retainer-based and other alternative forms of billing when dealing with external law firms.
Polczynski told attendees that a pivotal personal experience prompted a change of course in her career five years ago. She was a partner in Henry Davis York's retail banking and finance practice at the time, where she had been working for more than 10 years.
"There I was, a 44-year-old lawyer in touch with my adolescent idealism, and I wanted to do good in the world," she said.
She explained that her skills as a banking lawyer and her desire to do humanitarian work suited her current role at Adelaide and Bendigo Bank – a community bank that has as its slogan: "we build our success through the success of others".
"That's also our slogan within group legal and that's what gets me up in the morning, knowing that we're doing something for the community," she added.
Other individual winners at the 2012 Australian Corporate Lawyers Association (ACLA) Awards were Sandra Eckert from the West Australian Department of Regional Development and Lands, who was named Government Lawyer of the Year, and Marisa Muchow of the Australian Building Codes Board, winner of the Young Lawyer Achiever Award.
Telstra won the Large Legal Team of the Year award, beating competition from AMP and NBN Co, and the RACQ in-house legal team was honoured for excellence in corporate social responsibility.
Taking the final team award for the evening was the in-house team at Australian Health Practitioner Regulation Agency, which was named Small Legal Team of the Year.
The annual ACLA National Conference and Awards was held at the Palmer Coolum Resort on the Sunshine Coast.