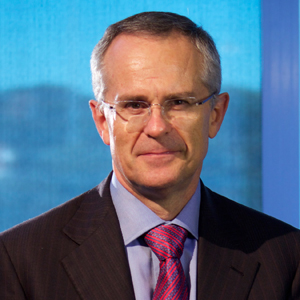 ACCC chairman Rod Sims has warned in-house counsel and commercial lawyers in private practice that cartel prosecution is among the regulator's top enforcement priorities.
Sims (pictured) told attendees of the International Bar Association's (IBA) ninth Competition Mid-Year Conference held in Sydney last week (21-22 March) that the ACCC is currently conducting more than 10 in-depth cartel investigations. He also nominated anti-competitive agreements and misuse of market power as two other focus areas of the competition watchdog.
"There are some forms of conduct that are so detrimental to consumer welfare and the competitive process that we will always assess them as a priority," he said.
While Sims admitted that court actions taken by the ACCC have generally targeted alleged cartel activity across international borders, he warned that some of the current investigations are confined to local conduct. He pointed to the ACCC's cartel immunity policy, which offers immunity to the first to disclose and cooperate, as the lead source of information for cartel investigations, attracting more than 100 approaches since its introduction in 2005.
Ashurst recently warned clients about the watchdog's plans to ramp up cartel enforcement. The firm said the ACCC is not just targeting international price fixing cartels by major corporations, but is also pursuing "smaller" localised cartels.
Sims' speech also cast a spotlight on proceedings against airlines, revealing that to date, 13 airlines have been ordered by the Federal Court to pay a total of $98.5 million in penalties for cartel activity. The ACCC's most recent proceeding in the Federal Court was instituted against Yazaki Corporation, a Japanese company, and its Australian subsidiary, Australian Arrow Pty Ltd.
In 2010, Melbourne University Law School found that 58 per cent of businesses did not know that fixing prices, rigging bids, sharing markets and restricting supply is a criminal offence that can result in 10-year jail sentences for individuals; and of the 42 per cent of businesses that understood the potential criminal nature of cartel conduct, almost one in 10 said they would still be likely to join a cartel if the opportunity arose.
The IBA conference also included a regulators roundtable; and presentations entitled Merger control – is convergence still on top of the agenda?, and New challenges in the coordination of multi-jurisdictional cartels.
A number of Australia-based lawyers were involved as either moderators or speakers over the two-day event.