COO rewarded for pro bono push (1)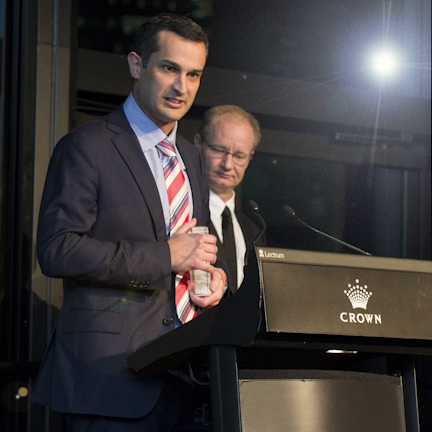 Wotton + Kearney's chief operating officer Andrew Price made it a double at the 2013 Lawyers Weekly Australian Law Awards on Friday night (26 July)._x000D_
Wotton + Kearney's chief operating officer Andrew Price made it a double at the 2013 Lawyers Weekly Australian Law Awards on Friday night (26 July).
Competing against DLA Piper's Canberra office manager Caroline Atkins and Colin Biggers & Paisley's general manger Luke Solly for the Practice Manager Award, proudly sponsored by LexisNexis, Price (pictured) took it home for the second year running.
"I didn't expect to win two years in a row, given the quality of the other finalists, but I am delighted to accept the Award," said Price after the event at Melbourne's Crown Casino.
Category judge Greg Barns, a barrister and former head of the Australian Lawyers Alliance, said Price had a good balance between developing his firm's business and opening new areas on the one hand, and a strong internal focus on workplace welfare.
"Strong focus on pro bono and community engagement is always welcome and having a practice manager who delivers it is doubly welcome," said Barns in his judging comments.
As chief operating officer of W+K,Price played a crucial role in developing the firm's pro bono program, Community Footprint, which has seen a commitment to a 100 per cent increase in the firm's financial contribution to pro bono matters and almost twice as many lawyers working on them compared to last year.
"David Kearney and the firm's partnership make my job a lot easier," said Price, whose combination of commercial acumen and focus on pro bono work and community engagement was noted by Barns.
In November 2012, Price was one of six W+K employees who travelled to Cambodia to build 13 houses for impoverished Cambodian families as part of a partnership with Tabitha Foundation. He was heavily involved in raising more than $21,000 for the Foundation, putting his body on the line in his first half marathon.
"It is extremely rewarding on a personal level to have completed the house-building project.  The community was genuinely so grateful for the contribution that our team had made," said Price in November last year.
As well as overseeing the logistics of the firm's third office opening in Brisbane, and a new Young Lawyer Development Program, Price played a key role in restructuring the firm's IT operations.
Through the appointment of an experienced IT manager and support officer, Price was able to provide lawyers with enhanced iPhone and iPad connectivity, an IT helpdesk and intranet, a new client relationship management program and streamlined printing functionalities in line with the firm's sustainability commitments.
On top of this, Price has overseen strong increases in revenue at W+K, including an 18 per cent jump in 2011-12.
Price received his trophy from LexisNexis Pacific's executive manager, practice management, James Parker.