Alternate offering made us the new normal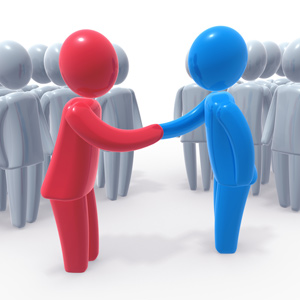 A big four bank and a national law firm have told Lawyers Weekly how ditching time billing meant the deal was done.
A big four bank and a national law firm have told Lawyers Weekly how ditching time billing meant the deal was done.
Tomorrow (19 September), representatives from Westpac and Sparke Helmore will be part of a panel discussion on client collaboration at the Janders Dean Legal Knowledge and Innovation Conference in Sydney.
The focus of that discussion will be the circumstances surrounding Sparkes getting the nod from Westpac when it successfully won a competitive management property tender last year.
"Sparkes provided a significant cost saving when compared to our incumbent provider," said Kylie Gray (pictured below), the head of Commercial, Technology & Intellectual Property, Legal & Secretariat, at Westpac.
Gray spoke to Lawyers Weekly with Peter Campbell, Sparke Helmore's chief information officer and knowledge director.
Both Gray and Campbell will be members of the panel discussion at the Janders Dean Conference.
Seven firms made tender submissions for the work, including global, national and boutique firms.
Gray said Sparkes won the contract because it provided a balance of technical expertise and commercial acumen.
"A lot of the proposals came back with alternate fee structures," she said. "The particular alternate fee arrangement Sparkes presented was very attractive to us because it had minimal assumptions.
"It provided true cost certainty."
Westpac has around 100 in-house lawyers and also regularly takes lawyers on secondment from law firms it has strong relationships with, such as Henry Davis York and Herbert Smith Freehills.
Its formal legal panel comprises 22 firms, spread across a multitude of practice areas.
The globalisation of Australia's legal market has meant independent firms such as Sparkes have had to diversify itself from larger rivals in order to warrant a place on the panel of large corporate such as Westpac.
Sparkes have been bullish about providing alternate fee arrangement (AFAs) as part of that strategy. Around 70 to 80 per cent of the firm's files in the corporate group have a non-traditional fee structure.
"The old way of 'here is my hourly rate of $1000 an hour, times the number of hours and the big team I put on it', those days are gone," said Nick Humphrey, the head of the corporate group at Sparkes, at an M&A conference in May.
Gray, a former senior associate at King & Wood Mallesons before joining Westpac four years ago, said that in-house teams have faced increased scrutiny from senior management with regard to their external legal spend.
She added that means general counsels and divisional in-house heads are seeking greater cost savings from their law firms.
"Certainty in this market around cost is right up there," she said, when asked about what factors are important in making law firm appointments. "When we evaluate tenders, cost and the ease of doing business are crucial for Westpac in this market at the moment."
Non-lawyers rise-up
Campbell (pictured right) led the Sparkes team that won the Westpac property leasing work.
He helped to get Sparkes over the line by developing a portal that now allows Westpac to efficiently manage its high volume of property leasing matters.
He said that law firm partners are increasingly starting to see the value that knowledge managers can provide in gaining and keeping clients, and his role is increasingly becoming a client focussed one.
"Partners are very protective of their client relationships, they don't want to wheel someone out who will say something stupid or bamboozle people with tech talk," he said, adding that after the successful tender with Westpac, he was approached by partners asking if he could develop a similar portal for their clients.
"I would then ask if they needed one, but at least they were having that conversation with me."
The sold-out Janders Dean Conference features senior partners, law firm leaders and knowledge management and IT experts.
Lawyers Weekly is the official media partner of the Conference.