ALA awards emerging talent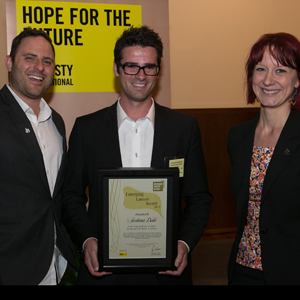 The Australian Lawyers Alliance (ALA) has presented its inaugural Emerging Lawyer of the Year Award.
Josh Dale (pictured right with Amnesty International's donor liaison manager Josh O'Rourke and government relations manager Louise Allen), an associate at Stacks Goudkamp Compensation Lawyers, was presented with the Award at the Welcome Function at the ALA's National Conference in Canberra on 24 October.
Dale represents 295 Australian diggers who suffered from radiation illnesses after taking part in nuclear weapon testing in Maralinga, Emu Field and the Monte Bello islands.
When accepting his Award Dale thanked his boss Kasarne Robinson, saying that the Award was a great surprise and that "you are only as good as the opportunities given to you".
Dale is the chair of the ALA's Human Rights Sub-Committee and a member of its Criminal Law Sub-Committee.
Prior to joining Stacks Goudkamp Dale worked as a paralegal at Moroney Lawyers and also spent four months working in Cambodia as a journalist.
The Emerging Lawyer Award is presented to a lawyer who has "demonstrated outstanding achievement in the legal profession to date". To be eligible for the Awards candidates had to be 30 years of age or under or in their first three years of practice and a member of the ALA.
Criteria that were considered for the Award included: outstanding work over the past 12 months that set candidates apart from other lawyers of similar experience; a demonstrated passion for social justice, and involvement in pro bono work, societies, volunteering or community work.