Bullying rates 'alarming'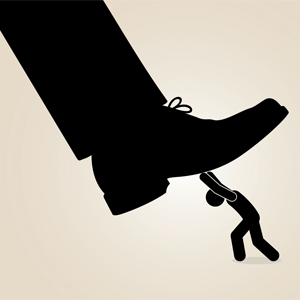 Half of women lawyers and one in three men who took part in a study by the Law Council of Australia (LCA) reported they had been bullied or intimidated in the workplace.
Initial findings of the national study were unveiled at the Retaining and Advancing Women in Professional Services conference in Sydney last Friday (31 January).
Emma Hlubucek, senior policy lawyer at LCA, told delegates that the National Attrition and Reengagement Study (NARS) showed an "alarming" number of current and former legal practitioners felt they had been bullied.
The LCA surveyed practising and non-practising lawyers across Australia, attracting responses from more than 1000 women and men, some of whom participated in more in-depth interviews.  
The study found that the high perception of bullying, intimidation and aggression in the profession could be linked to the confrontational nature of legal practice.
"Characteristics such as assertiveness, resilience or confidence are typically observed and sometimes valued in the legal profession, but those are seen to extend to bullying and aggressive behaviour," Hlubucek explained.
An equally staggering number of women (50%) reported experiencing discrimination due to their gender, compared to just over 10 per cent of men. A quarter of these respondents said they were discriminated against due to family or carer responsibilities.
Hlubucek clarified that the discrimination was not limited to male offenders, with a number of women identified as the perpetrators.
Discrimination ranged from the overt to more subtle examples, such as the use of demeaning or condescending language or being excluded from social activities.
The study also found that age and stage of career influenced the type of discrimination women experienced. Younger female lawyers reported that they were discriminated against due to their age, while mid-range lawyers were more likely to report discrimination on the basis of family responsibilities. A number of women of child-bearing age, for example, felt they may have missed out on career opportunities due to the assumption that they could fall pregnant.
Large law firms had the highest rates of discrimination and sexual harassment. These firms were also identified as having a male-dominated culture that favoured male candidates in the promotion process.
 "While mentoring and career opportunities may be available these are not necessarily ... sufficient or appropriate for female practitioners," said Hlubucek.
Gender equality
Long working hours, pressure to achieve billable commitments and poor work-life balance were raised by both male and female practitioners as the reasons for recent career moves from large firms to smaller practices or in-house roles.
"This finding highlights the significance of flexible work practices that enable work-life balance across the profession that is not just limited to working mothers," said Hlubucek.
Taking up flexible work options can, however, have a negative impact on career progression, according to the study, with some respondents reporting that such arrangements can result in them being allocated unsatisfying work, missing out on promotion or contending with assumptions from colleagues that their priorities lay outside of work.
The NARS is currently under final review, with an official report due to be launched in mid-March.
The report will include practical measures that legal associations and law practices can implement to address the causes of high attrition among female lawyers, and to reengage women who have left the profession.
Other prominent legal figures that spoke at the conference include K&L Gates partner Alice DeBoos, and Baker & McKenzie partner Bryony Binns, who discussed the advantages of cross-gender mentoring programs in law firms. Catherine Harris, Slater & Gordon's general manager of HR, also delivered a presentation at the event on the firm's diversity programs, which have boosted the number of women in partner-equivalent roles to 55 per cent.