Masters of money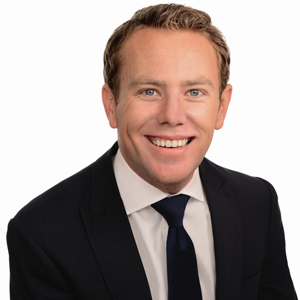 The NobleOak Banking & Finance Award finalists in this year's Lawyers Weekly 30 Under 30 Awards are an impressive group of heavy hitters from national firms and a national bank.
The NobleOak Banking & Finance Award finalists in this year's Lawyers Weekly 30 Under 30 Awards are an impressive group of heavy hitters from national firms and a national bank.
Charles Driscoll (pictured right) was appointed a senior associate at Ashurst after just three-and-a-half years' post-admission experience. Today, he sits in the client's chair in his new role as legal counsel at National Australia Bank (NAB), where he manages the relationship with NAB's panel law firms and coordinates workflow across Australia and Asia. Charles is also the lead lawyer looking after NAB's global aviation finance portfolio.  "[Charles] is an exceptionally talented and gifted operator," said his former employer and Ashurst partner, Martin Coleman.
Coleman also had nothing but high praise for another Ashurst lawyer among the finalists in this category. Abigail Farrelly (pictured below) is "a truly gifted and inspirational leader of tomorrow", he said. Abigail has been sought out to act for the likes of ANZ, CBA, Westpac and other blue chip clients. She is also a champion of diversity at Ashurst, participating in the firm's Women's Mentoring Program and Women in Banking & Finance events. Prior to joining Ashurst, Abigail worked for the banking & finance group of Allen & Overy in London where she ran complex multi-billion Euro transactions involving large syndicates.
Another Abigail is also in the running for this Award. Abigail Haseltine, like her namesake, has also worked on multi-billion corporate transactions, including the Sydney Desalination Plant Privatisation. The Gilbert + Tobin lawyer, who was a finalist in last year's Lawyers Weekly Women in Law Awards, also makes time to work on complex pro bono matters. She has represented refugees and provided free legal advice at Marrickville Legal Centre and Homeless Persons Legal Service.
Partners at Corrs Chambers Westgarth have described James McNaught as having "a keen mind and a knack for navigating complex issues". The firm has so much faith in James' technical skills, in fact, that he has been partner Brad Husband's second-in-charge on a number of large-scale residential property projects for the big banks. In one deal for ANZ, James took the lead on drafting and negotiating finance documents, managing the closing process and liaising with the lenders and other parties.
ANZ has also been impressed by the work of Norton Rose Fulbright lawyer Nick Sinclair. Nick was the lead associate on the bank's $250 million club and restructure financing to Forge Group Limited. One of the key members of the ANZ team wrote a note to James to "express my personal gratitude for the support and your continuous commitment to excellence and dedication to your clients". The accomplished 29-year-old has also led a team of lawyers to close a complicated transaction involving four law firms across three different time zones.
Rounding out this category's finalists is Daniel Yim (pictured right) from Gilbert + Tobin. Daniel has taken a leading role in graduate recruitment for the firm, speaking on numerous occasions at university presentations and careers fairs. He has also been heavily involved in the firm's buddy and mentor programs. His contributions to nurturing talent at G+T's Melbourne office sits alongside noteworthy work advising lender syndicates and financiers.
Lawyers Weekly 30 Under 30 Awards will be held at Sydney's Ivy Ballroom on Friday 16 May. You can purchase tickets here.