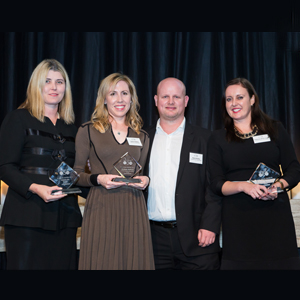 A winner at this year's Lawyers Weekly 30 Under 30 Awards has claimed in-house counsel work every bit as hard as private practice lawyers.
A winner at this year's Lawyers Weekly 30 Under 30 Awards has claimed in-house counsel work every bit as hard as private practice lawyers.
Jessica Dodson, legal counsel and company secretary at Medtronic Australasia, was one of the winners of the Charterhouse In-House Award at the annual event for under-30s held in Sydney last week (16 May).
Jessica told Lawyers Weekly on the night that the days of a corporate counsel simply managing external legal service providers is over. She said in-house lawyers are increasingly taking on extra work that used to be outsourced to law firms.
"The myth that in-house lawyers work less hours and have a bit of a cruisey time is unfounded," she added.
Jessica knows what it's like to work at a law firm. She started her career at Ashurst as a summer clerk and stayed on as a lawyer at the Sydney office for another three years. But Jessica realised early on that she didn't want to be a black letter lawyer.
"I really like the diversity of being in-house and using more commercial skills as well as traditional legal skills, and that's why I decided to make the move," she said.
In addition to the range of work her in-house role offers, Jessica commented that working at the coalface has its rewards.
Fellow winner Dianna Gu from SP Ausnet couldn't agree more. Dianna said she feels "a great sense of pride" when she can see the way her work has contributed to the company's success.
Like Jessica, Dianna worked in private practice for three years at Hunt & Hunt in Melbourne prior to moving in-house. She said her experience in both worlds has taught her that lawyers need to intimately understand their clients' business.
"Lawyers can improve the service they provide to clients through more theoretical and practical exposure to business decision-making processes," she said.
Dianna takes her own advice seriously and is currently completing an MBA and Master of Marketing at Melbourne Business School.
The youngest of the winners, 27 year-old Kimberly Statham, said she, too, believes that sound legal advice must take into account a company's commercial goals.
At Red Bull (ANZ), Kimberly is part of the Australian Leadership Team and guides the business through issues relating to resourcing, company performance and sales and marketing strategies.
The judges said Kimberly's leadership, including being appointed the sole legal counsel of Virgin Mobile at the age of 26, was "extremely impressive ... for such a young practitioner".
Another impressive aspect of Kimberly's submission were her insights into the legal profession. She said workplace culture is being eroded by the billable hour and long working hours, and urged firms and organisations to work harder to address the high rate of depression in the law.
"More than the mere acknowledgement and awareness ... is needed in order to completely remove the stigma that is associated with depression," she said.
The other finalists in this category were: Kylie Barrie from Bendigo and Adelaide Bank, Nicole Ingram from the Legal Services Commission in Queensland and Michael Simmons from Playfair Visa and Migration Services.