With friends like these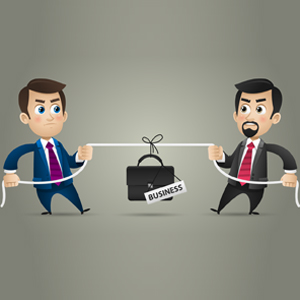 Internal rivalries are pushing large law firm partners out the door to smaller and more profitable paramours, concede a number of large law firm finance and technology heads.
Last month Lawyers Weekly attended a roundtable discussion that included over a dozen hand-picked chief information officers (CIOs) and chief financial officers (CFOs) from a selection of the largest and most powerful firms in Australia.
The discussion focused on the dislocation of the current domestic legal market, and the rise of non-lawyers within law firms.
The various CIOs and CFOs around the table at Sydney's Four Seasons Hotel said that the large law firm model is under siege from clients, technology and new entrants.
"I keep telling my partners that there is 30 years of structural change happening in five years and we are two years into it," said one senior legal figure at a national law firm with international offices.
Another senior manager at the discussion said that internal tensions are often the root cause for partners seeking a move elsewhere, and that partners are willing to move to smaller firms  to earn a fatter pay cheque.
"It all gets down to how much a partner takes home at the end of the day, that is where the  most competition is coming from at the moment at the firm level and that is why we are seeing a lot of partner movement," he said. "Partners are savvy enough to realise that the big firms don't necessarily produce the highest profit."
In discussing why small and boutique firms are making inroads in the present climate, another attendee said that small firms can make strategic decisions in a clear and concise manner with a minimum of fuss.
"Small firms are more nimble, able to adapt their prices better and reduce cost far more competitively than large firms," said this key figure within a large firm.
The discussion was organised by the legal software company Aderant.
Lawyers Weekly was invited to attend on the proviso no direct quotes were attributed or the names of attendees disclosed.
Lawyers Weekly can reveal that firms represented at the roundtable included Allens, Henry Davis York, Carroll & O'Dea, Norton Rose Fulbright, Hunt & Hunt, Moray & Agnew and DibbsBarker.
Mike Barry, the Atlanta-based senior vice president of research and development at Aderant moderated the discussion.
Information is power…and clients call the shots
The increasing power and influence of general counsels was readily acknowledged by attendees.
Many of the law firms at the discussion said that clients can demand information in fine detail, and that information can be used by clients to leverage external law firm relationships.
"Our clients are getting a lot smarter, they are asking for data exchange on a daily basis," said one attendee, who added that such data is crunched and sent to one particular client every morning on an automated basis.
"So you can imagine when you have a big client with relationships with a fair few firms and they are measuring everything you do over every practice area.
"In another six to 12 to 24 months they will have a very good perspective of who the major players are and who [law firms] is performing well."
Technology was noted as the key factor that was facilitating clients  being able to measure law firm performance, with a number of attendees noting that technology had moved from being considered internally as  an "enabler", helping to get the job done, to being a "disruptor", causing angst and posing questions about efficiencies and security risks.
"We are being challenged by commoditisation, challenged by expanding general counsel [influence] and challenged by the fact that you can do business anywhere," said an attendee.
"You can move work to a cheap offshore location and make a profit that way … technology is facilitating lots of these developments and changes to the law firm model."
Trust me, I'm a lawyer
Despite a general consensus that lawyers need to listen to clients and non-legal professionals within firms more, there was a general feeling that lawyers are still in the best position to determine pricing policies.
"I prefer to see the partner on the transaction rather than someone from business development, because they just want to sell," said one attendee. "They are less inclined to worry about the profitability of the partner, they just want the transaction [to go ahead]."
It was noted that the most effective assistance business development staff could provide fee earners was around "what was in scope and out of scope" in terms of what would be included on the invoice.
 "You do see more transparency requests.
"Clients say that 'if you are going to charge me $200K for something, that is what you are going to charge me'.
"If we then say at the end of a transaction 'it is going to cost $225k because two or three things happened, they [the client] will say 'that is your problem'."
A number of attendees shared stories about clients increasingly taking an inordinate amount of time to pay bills, with one spokesperson stating that one client used such a lengthy lag time as the basis on which to look for a further discount when pressed for payment by the law firm provider.