Follow the leaders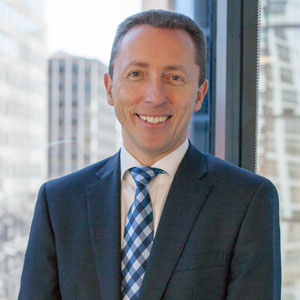 The six finalists in the running for The Managing Partner of the Year Award, proudly sponsored by Burrows Legal, show that firm success comes from the top.
Speaking with Lawyers Weekly, Mills Oakley's managing partner John Nerurker (pictured right) said he was "delighted and humbled" to be named a finalist at this year's Lawyers Weekly Law Awards, proudly sponsored by Michael Page Legal.
But John earned his spot among the finalists, which include managing partners from national and global firms.
His leadership has put Mills Oakley on track to achieve 30 per cent revenue growth this year. In fact, the firm has achieved double-digit growth each year for the past decade.
John said the firm's "fair and transparent" remuneration and career development models were the secret to Mills Oakley's financial success.
"Partners and staff know what is required to move to the next level and if they meet those benchmarks, their progress is assured.
"This transparency drives our teams on to success and lowers turnover rates because our people feel they will be appropriately rewarded for their efforts."
John has also been a pivotal part of the firm's recruitment strategy, personally recruiting all but four of the current 57 partners at Mills Oakley.
However, the firm has walked away from potentially lucrative recruitment opportunities "if we don't think the alignment of values is there", John added.
Hall & Wilcox's Tony Macvean is the only other managing partner from a mid-tier firm represented in this category and, like John, has been the driving force behind his firm's double-digit growth.
Over the past 12 months, Hall & Wilcox has increased its revenue by 20 per cent and profit by 31 per cent. The firm has also boosted partner numbers by 17 per cent since June 2013.
A client of the firm has credited Tony with reinventing Hall & Wilcox since his appointment in 2007. Among his achievements is the opening of a Sydney office and the establishment of a major pro bono and community program.
Big end of town
Three global firms were represented among the finalists for The Managing Partner Award: Baker & McKenzie, Norton Rose Fulbright and Squire Patton Boggs.
Bakers' national managing partner Chris Freeland (pictured left) has pioneered a range of initiatives that have not only contributed to the firm's financial success, but also improved brand awareness and gender diversity.
Chris' leadership has seen profits per partner increase by over 10 per cent this past year. He is also one of the most quoted law firm CEOs in Australia and the firm has been ranked first, ahead of nine of Australia's largest firms, for its percentage of positive news coverage.
The firm's BakerWomen program has also gained momentum under Chris' leadership, with a record number of women appointed to the firm's partnership, both through internal promotions and lateral hires, in the last 12 months.
Fellow global firm finalist John Poulsen, the Australian managing partner of Squire Patton Boggs, is a champion of mental health initiatives.
John told Lawyers Weekly in May that staff wellbeing must be built into partner remuneration systems, a model he has introduced at Squire Patton Boggs.
The only Perth-based managing partner in the group is also putting into practice depression guidelines released by the Tristan Jepson Memorial Foundation (TJMF) earlier this year.
John, who has spoken openly about his own battle with depression, said he strives to lead by example by "manag[ing] the daily juggle with regular exercise for health and wellbeing".
Norton Rose Fulbright's Australian managing partner Wayne Spanner also takes the high rate of depression in the law seriously.
On Wayne's insistence, the firm spent a year working with the TJMF on the new guidelines. He has also been the instigator of other philanthropic initiatives; in April he took a group of partners to the US to participate in the BP MS 150, a bike ride from Houston to Austin which raised more than $100,000 for charity.
The sixth finalist in this category is the head of national firm Gilbert + Tobin.
Danny Gilbert's (pictured below) stewardship has been credited with achieving revenue increases of $10 million each year over the past five years.
But Danny is not just focused on financial success; he was the first managing partner to employ a lawyer dedicated full-time to pro bono work and can boast that G+T has the highest proportion of female partners (35%) of any large Australian law firm.
The Lawyers Weekly Law Awards will be held at the Four Seasons Hotel in Sydney on 8 August. Tickets are available here.