DLA finds new lodgings at Martin Place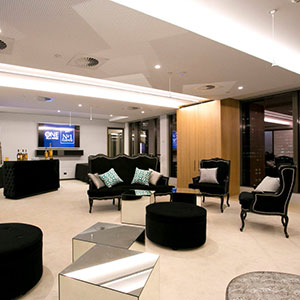 DLA Piper has taken advantage of new technology and design principles at its new Sydney digs in No 1 Martin Place.
The firm was previously located at 201 Elizabeth Street, Sydney.
At the office launch event last week (17 July), Lawyers Weekly spoke with the firm's Sydney managing partner Onno Bakker about the transition.
"It's got a great atmosphere, great buzz; and what I really like is the combination of open plan and shared offices," he said.
Bakker said the combination of open plan offices and community spaces is in line with research that suggests flexible and collegial workplace design can contribute to positive mental health.
Going open plan is also a more efficient use of office space, according to Bakker, who revealed that the rent at No 1 Martin Place is less than what the firm paid for its Elizabeth Street premises.
The firm has also invested in new technology. Phone calls are now directed through computers instead of landlines, and wireless headsets allow staff to move between their desks and quiet rooms for long conversations, Bakker said.
He described No 1 as DLA's "flagship office" in Australia and said the firm would look to implement the same technology across its offices globally.
Lawyers Weekly also spoke with chief operating officer and Australian managing partner Andrew Darwin on the night, who said the move was engineered following the expiration of DLA's 10-year lease of the Elizabeth Street office.
The firm has signed a 10-year lease for the Martin Place office.
In a recorded segment played at the event, Sir Nigel Knowles, the co-global CEO of DLA, said: "Repositioning our firm in the way that we have done in Sydney is a very big move for us all. I want to emphasise … that you simply can't be the leading global business law firm unless you have strong presence in Australia and particularly in Sydney".
Here are some pictures from the event:
{^widget|(noofcolumns)4|(name)RBI.MediaGalleryViewer_1|(widget_displayname)RBI+Media+Gallery+Viewer|(filepath)DLA+piper+event%2f%2525|(thumbnailsize)120|(width)|(height)^}