Party in the house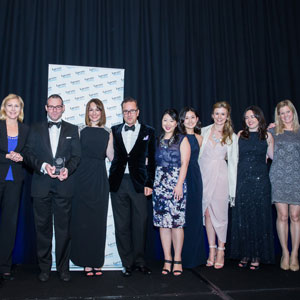 Westpac Group's Compliance, Legal and Secretariat team celebrated winning the In-house Team Award last Friday night.
Westpac Group's Compliance, Legal and Secretariat (CLS) team celebrated winning the In-house Team Award, proudly sponsored by e.law, last Friday night.
"We were really excited and really proud to receive the award and to have our achievements recognised by our profession," said general manager and corporate counsel of Westpac's Institutional Banking business Rob McGrory.
A number of representatives from Westpac's legal team (pictured) attended the presentation of The In-house Team Award at the Lawyers Weekly Law Awards, proudly sponsored by Michael Page Legal, last Friday night (8 August).
"We've got quite a lot of teams so we tried to get people across the whole spectrum to come along," Rob said.
The group included: members of the technology and operations team, the business banking legal team, the Westpac institutional bank legal team, the group corporate legal team, the BT legal team and the dispute resolution group.
All 10 Westpac representatives squeezed onstage to accept the award from the CEO of e.law Allison Stanfield.
"This is the first time they've been let out of the house and they're going straight back in at the end of this," joked Andrew Hansen from The Chaser, who was acting as MC. 
Rob said the award means a great deal to the team because it shows that the wider profession has recognised the "enormous depth of talent in in-house legal teams".
Westpac's legal group prides itself on implementing internal initiatives to develop leadership, technical expertise, software knowledge and health and wellbeing within its team.
The in-house lawyers have worked on a number of significant transactions in the last 12 months including Westpac's successful acquisition of Capital Finance Australia Limited and BOS International Australia Ltd.
The team played multiple roles in advising on the M&A aspects of the transaction, including overseeing due diligence.
Rob said that the team also contributed significantly to Westpac's response to the Future of Financial Advice (FOFA) reforms.
The FOFA reforms brought major changes to the regulation of the financial services industry. The in-house team's advisory and advocacy work helped Westpac deal with the impact of the reforms on its business.
The legal team is conscious of Westpac's commercial objectives and applies to itself the same rigorous productivity measures as the rest of the business.
"We've done a lot of work on getting better about how we run ourselves," said Rob.
Kylie Gray, who leads Westpac's Group technology and operations team, was also a finalist in the Corporate Counsel category.
The Westpac team was among three finalists for The In-house Team Award, the other two being Telstra Legal Services Group and Perpetual Limited.