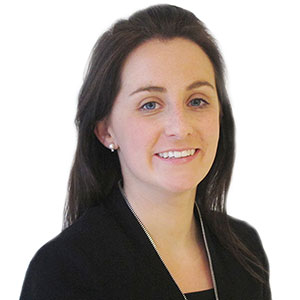 Norton Rose Fulbright has two finalists vying for the Future Star Award, sponsored by Leo Cussen, at this year's Lawyers Weekly Women in Law Awards.
Norton Rose Fulbright has two finalists vying for the Future Star Award, sponsored by Leo Cussen, at this year's Lawyers Weekly Women in Law Awards.
NRF lawyer Jessica Blanchett (pictured right) is one of six finalists in a category that attracted more than 20 high-quality nominations. She will be up against an NRF colleague from the firm's corporate group and four other exceptional lawyers at the Awards event held in Melbourne next month (17 October).
Jessica is a member of NRF's construction and engineering team. Her submission included high praise from partners and colleagues that detailed her contribution to the success of the practice group.
However, Jessica said her hard work has not been entirely selfless.
"I've found that the more I put in to my career, the more I get out of it," she told Lawyers Weekly.
She added that NRF has rewarded her contribution with "a world of opportunities".
Jessica was seconded to NRF's London office in 2013, and her international experience didn't end when she returned to Melbourne.
"One of the great things about being part of a global business is … [being] exposed to a global perspective on the work we do, which has allowed me access to a large internal network and additional mentors in foreign offices."
Like many of the finalists in this category, Jessica juggles an intensive workload along with charitable work, being a mentor and roles on industry committees. She is a member of Victoria Women Lawyers and is involved in the association's mentoring program. She also acts as secretary of the Melbourne Office Charity Committee and is one of the main organisers of its events, including a recent fundraiser for the Asylum Seeker Resource Centre.
"I do admit it can be challenging trying to balance client work with mentoring and [corporate social responsibility] activities, but having a well-rounded career is so rewarding and I wouldn't have it any other way."
Kirsten Gourd, who also works at NRF's Melbourne office, understands the art of balancing paid and unpaid work. The young lawyer has taken lead roles on major transactions while maintaining a strong pro bono practice.
In the last financial year alone, Kirsten accumulated 850 pro bono hours, including while on secondment. She also regularly volunteers for The Salvation Army.
Less than a kilometre away, a Melbourne-based Clayton Utz lawyer is demonstrating that pro bono need not take a backseat to client work. Stefanie Faubel (pictured left) is not only the leading junior lawyer advising NBN Co, but also takes the lead on significant pro bono matters.
Clutz partner Marko Misko said Stefanie's "unique blend of personal attributes" make her an outstanding lawyer and team member.
He added that he counts himself lucky to work as part of a team with a lawyer of Stefanie's calibre.
Samara Goode from CBP Lawyers in Brisbane has similarly glowing references from her supervising partner, as well as firm clients.
Samara is involved in major transactions for nearly all of the leading banks, with one banking client describing her as "very professional and proactive with all our dealings".
Another client praised Samara for her "exceptional skills" and "high-level of customer service, well beyond what is requires in the ordinary course of business".
Fostering strong client relationships is something that DLA Piper's Celeste Koravos excels at. The category's fourth finalist from Melbourne was seconded to the DLA Piper's Tokyo office in 2012 where she was instrumental in developing the firm's 'Japan Initiative' cross-team and cross-border client focus group.
Back in Australia, Celeste sits on the Committee of Management of the Australia-Japan Society of Victoria and has arranged for DLA Piper to co-host three business events featuring high-profile speakers.
A qualified civil engineer, Celeste skilfully articulates technical engineering issues and relates them to legal issues to ensure lawyers and clients are on the same page.
The remaining finalist in this category has been described as a "technically exceptional M&A lawyer" by Corrs Chambers Westgarth partner Braddon Jolley.
Emily Raftos' (pictured below) quality work and dedication has earned her the top performance rating of 'outstanding' in each of her performance reviews since she started as a graduate at Corrs in 2012.
She has also earned the trust of her superiors, who depend on her through significant corporate transactions, such as ADM's takeover bid for GrainCorp for which Raftos acted as the most senior non-partner lawyer.
The deal was one of the largest proposed takeovers for 2013.
Lawyers Weekly will continue its coverage of the Women in Law Awards finalists over the next two weeks.