Large law smashes pro bono target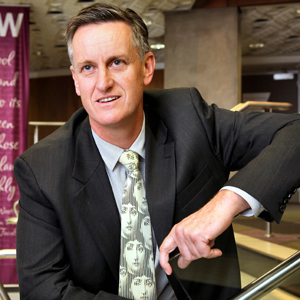 Over half of the 17 Australian top 20 law firms signed on to an aspirational annual target of 35 hours of pro bono work per lawyer met or exceeded it last financial year.
The National Pro Bono Resource Centre (NPBRC) released its annual performance report on the National Pro Bono Aspirational Target today (2 October).
Seventeen out of the 20 largest firms in Australia are signatories to the Target, with Herbert Smith Freehills, King & Wood Mallesons, Holding Redlich and Gadens among the more recent additions.
The report found that 10 (59%) of the signatories met or exceeded the Target for the 2013-14 financial year.
It also revealed that a firm's pro bono performance generally improved the longer it had been a signatory to the Target.
John Corker (pictured), director of NPBRC, told Lawyers Weekly that the findings prove that a Target is an effective device in encouraging uptake of pro bono work. However, he added that the Target's success is not an endorsement for mandatory reporting.
Corker claimed that mandatory reporting can create a league table, which pits firms against each other rather than focusing on the spirit of pro bono, which is to "meet real legal need".
Around 11,000 Australian lawyers are covered by the Target.
The bigger picture
Today also marks the release of NPBRC's Biennial Pro Bono Survey results, which include responses from 40 of the 55 Australian firms with 50 or more lawyers.
The survey found the average number of pro bono hours per lawyer per year increased to 32, up from 29.9 in 2012 and 29 in 2010.
Large law firms continue to lead the way, with their lawyers performing an average of 41.3 pro bono hours this year; but mid-tiers and smaller firms are gaining ground, increasing their average pro bono hours per lawyer by 26 per cent and 15 per cent respectively since 2012.
Corker said that while there had been progress at the mid-tier level, many firms still need to develop their practice "in a more organised and proactive way".
"In Australia, we have a very sophisticated pro bono movement, but there is a lot of capacity amongst firms to do more," he said.
For the first time, firms were asked about the proportion of partners that participated in pro bono work. The average participation rate of partners was 40 per cent, well below the overall average of 50 per cent.
Even so, Corker said the partner participation rate was higher than he expected.
"It's been said for a lot of years that most pro bono work is just being done by junior lawyers and this [figure] shows that's not the case."
He described one law firm with a 75 per cent partner participation rate as an example of "best practice".
"That's what Australian firms should aspire to … it shows a real strength of culture within that firm about how they take pro bono seriously."
Overall, the average participation rate has declined over the past few years.
The report cited a number of reasons for the downward trend, including a rise in the number of secondments that has meant a larger volume of pro bono hours are undertaken by fewer lawyers, rather than being spread across a firm.
Corker added that competitive pressures in the market driven by new entrants, mergers among mid-tier firms and global mergers, could also be flowing on to pro bono practices.
The specific number of pro bono hours performed by firms across both surveys is not revealed by NPBRC.