Why are women at the Bar locked out of commercial work?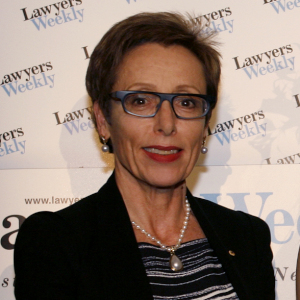 A prominent judge has challenged organisations to ask themselves why they cannot find talented female barristers to brief on commercial matters.
Justice Ruth McColl AO (pictured) of the New South Wales Court of Appeal spoke to Lawyers Weekly at an event held on 15 October and co-hosted by Allens Linklaters, Westpac and KPMG to promote equitable briefing practices.
Justice McColl expressed disappointment that the challenge of improving the exposure of talented women at the Bar to commercial work still needed to be addressed, even though women have been working at the Bar for more than a century.
"There is no doubt that the will [to brief equitably] is there but I think people have got to recognise that if they are not finding  female barristers to brief, it's because they are not looking in the right place," she said.
Justice McColl indicated that the problem was not a particularly complex one.
"Ask yourselves, 'Why do you brief male barristers?', 'How do you identify them?' – Is it because: a) you know them, b) somebody recommends them, c) you've seen them in court and thought they did well so you gave them a go?
"If you tick all of these boxes, is there any reason you can't apply the same processes to identifying and recommending women?"
Organisations, she said, should challenge their model of the perfect legal team by using the same problem solving process they use every day at work – by "thinking outside the square".
"What is your paradigm of a legal team?" she asked. "Can you actually see a woman in there – indeed, leading the team?"
There are clearly women who can lead. "You've got to just change your mindset," Justice McColl said.
In addition to being briefed less frequently than men, female barristers are generally exposed to shorter, less substantial cases than their male colleagues, Justice McColl continued, referring to the NARS study by the Law Council of Australia released in March 2014.
Another problem is that women solicitors are sometimes viewed as "brave" by their male counterparts for choosing to brief a female barrister so that, for some women lawyers, male advocates are seen as a "safer" option.  
When asked whether the low percentage of female SCs (under 10 per cent at the NSW Bar) is responsible for the lack of female barristers running high-profile commercial matters, Justice McColl said this was probably a significant contributing factor, but pointed out that many successful female advocates take judicial appointments – which keeps their proportional representation at the Bar very low.
Justice McColl said the evening had a valuable purpose, noting that the real point was for KPMG, Allens and Westpac both to meet the female barristers who attended and then to brief them.