Firm learning provides a great inside view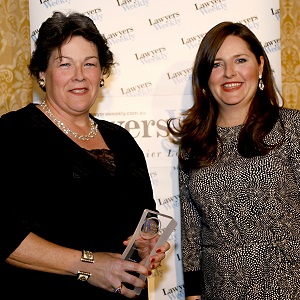 A senior GC lauded at the Lawyers Weekly Women in Law Awards paid tribute to her law firm training, but said working in business is more fun.
A senior GC lauded at the Lawyers Weekly Women in Law Awards paid tribute to her law firm training, but said working in business is more fun.
Mirina Muir (pictured) took out the In-House Award, proudly sponsored by JLegal, at the Lawyers Weekly Women in Law Awards on Friday 17 October.
Mirina was the first corporate lawyer from Western Australia to win this award, with Keypoint Law CEO Warren Kalinko giving Mirina the nod over Sarah Turner, general counsel and company secretary at Ebos Limited, and Kate Brown, head of major dispute resolution and employee relations legal at the Commonwealth Bank of Australia.
"I am humbled by tonight, and to Lawyers Weekly: what a wonderful evening to celebrate such outstanding achievements of such wonderful women," said Mirina, who is the general counsel and company secretary at OTOC Australia, a major infrastructure and construction company, which is based in Perth but does much of its work in remote parts of WA.
"I am so privileged to be standing here tonight as one of them, so thank you," she added.
In her acceptance speech Mirina recounted how she cut her teeth at Minter Ellison and Ashurst, learning from the likes of senior partners such as Phil Greenham, Greg Steinepreis and Peter Wood at Minters, and John Carrington, who is now managing partner of Ashurst in Australia.
"John Carrington used to be in Perth before coming to Melbourne and wow, what a character and fantastic operator," she said.  "I learnt lots about being in private practice and legal discipline and what it takes to be a lawyer in private practice.
"But what I also learnt is that it wasn't for me. Business is fun, and what I discovered is that I could use my legal skills and all the things that Ashurst and Minters had taught me and go into business and do some really good things."
Mirina has excelled in the corporate sphere since leaving Ashurst almost a decade ago, and especially since she joined OTOC in March 2013.
She helps to broker deals with clients such Rio Tinto, BHP Billiton and the Western Australian and Commonwealth governments. In 2013/2014, she reduced external legal spend by moving away from the billable hour and instead receiving invoices based on lump sum project rates.
One key contact called Mirina "a rare, brave and intelligent voice" on a $400 million construction project, stating that she maintained her integrity when many others around her did not.
Many strings to her bow
In addition to her legal prowess, Mirina is active in the not-for-profit space.
She is vice-chair of the Australian Indonesian Business Women's Network and sits on the board of the not-for-profit Governors of Fairbridge organisation, which assists youth at risk.
"To our women colleagues in Indonesia, who I do a lot of work with, it is an absolute joy to go to another country that is so culturally diverse from us. I am enriched by the experience."
Mirina combines all these extra commitments with being a single mother and raising her 11 year-old daughter, whom she calls "the light of her life".