Wrays plans to treble new Melbourne office within three years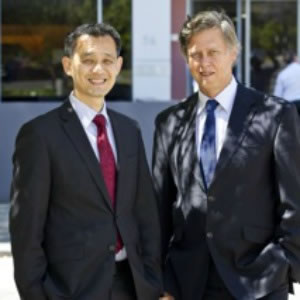 Intellectual property specialist Wrays has expanded into Melbourne this month, bringing the firm's total number of offices to seven.
Wrays is looking to grow the central Collins Street office dramatically: "Over the next three years, we plan to treble the Melbourne office with the addition of more practitioners," Melbourne-based principals Andrew Butler (pictured right) and David Chin (pictured left) told Lawyers Weekly.
"Our immediate plans are to have the Wrays brand recognised more widely in Melbourne and to provide a full, premium IP service," the pair added.
Mr Butler worked at Allens as a patent and trademarks partner for over 21 years before joining Wrays in January 2015.
Mr Chin worked as an IP and commercial lawyer at the University of Melbourne and started at Wrays earlier this year. He has also previously worked at Blake Dawson (now Ashurst).
Beyond billable hour targets
Wrays opened the Melbourne office just as the firm moved over to a new business model that aims to form a stronger link between client service experience and remuneration.
Under the new model "the practitioner is rewarded entirely on his or her ability to win and retain clients," Mr Butler and Mr Chin said.
Salaries are calculated as a fixed percentage of each lawyer's billing, which incentivises lawyers to maintain a high level of client service.
"[Lawyers] like the freedom this flexible remuneration model brings, as it allows them not to worry about hitting billing targets," the two continued.
Most Wrays lawyers still operate under the traditional salary model but promotion does not depend on which remuneration model lawyers choose.
Wrays has a "very active" client feedback process but pay is not directly linked to client satisfaction, according to the Melbourne principals.
"Each month 10-20 clients are telephoned and asked a number of questions about their client experience. Results are discussed at each board meeting.
"[Client feedback] is given the highest level of attention in the firm," they said.
Billing is very flexible under the new Wrays business model, which "gives principals complete autonomy to agree on any billing regime providing it fits within a number of internal parameters, such as maintaining Wrays as a premium brand and profit margin".
Fees are entirely based on what each individual client values: if the client prefers value-based pricing to billable hours, that can be accommodated. If the client needs certainty, fees can be fixed or capped.
"Sophisticated purchasers of legal services generally know what various matter types cost.
"Wrays recognises people choose and stay with their service provider due to the value of the service provided and the relationships they have with the individual," the principals concluded.