Law firm, former governor champion LGBTI group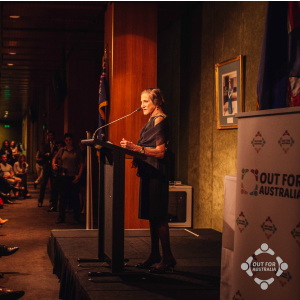 Baker & McKenzie joined with Dame Marie Bashir to throw their support behind Out for Australia, a LGBTI support organisation founded by a young law student.
Former NSW governor Dame Marie Bashir was the keynote speaker at last week's launch of the organisation's national arm, which provides mentoring and support to LGBTI professionals.
Ms Bashir also confirmed she would be the organisation's first patron, saying: "I am incapable of saying no to a community that I hold in such high regard."
Ms Bashir spoke movingly of the LGBTI people she had worked with during her medical career, including fellow doctors, nurses and patients.
"I'm passionate about the message of Out for Australia and I believe it will reach out to our most talented, superb young citizens," she said.
"What we want are our young people who don't have to struggle, like the young men and women I looked after as a young psychiatrist who sobbed their hearts out in my arms."
Support from the top
National firm Baker & McKenzie sponsored the launch at NSW Parliament House, with managing partner Chris Freeland suggesting lawyers had an obligation to support the LGBTI community.
"As lawyers we're in a privileged position and have a responsibility to do our bit to ensure our society is free from discrimination and bullying and that people are not held back from being as successful as they can and want to be because of factors which should be entirely irrelevant to that success," he said.
Mr Freeland also suggested that advocating for more inclusive workplaces made "good business sense".
"We want to attract and retain our best and brightest and many of these people are those who are a part of the LGBTI community," he said.
"Nurturing a culture that celebrates diversity, where everyone is valued for their individual qualities and contributions, will deliver much better outcomes for our people and for our clients."
According to Mr Freeland, Baker & McKenzie has a strong commitment to diversity worldwide.
"In the US we have for a number of years received a perfect score of 100 in the Human Rights Campaign's Corporate Equality Index and in the UK we were ranked 6 in Stonewalls Top 100 employers for 2015, putting us as the leading law firm for LGBTI-friendly workplaces," he said.
The firm was also named the principal sponsor of Out for Australia's launch and provided it with pro bono legal advice in advance of its founding.
Youth initiative
Out for Australia was started by Matt Yeldham, who is studying law at the University of Sydney, to help young LGBTI people navigate career challenges.
Mr Yeldham said the organisation had already achieved a great deal with its mentoring and women's program under the guise of Out for Sydney, but said the new national arm would provide a wider audience.
"The unfortunate reality is that there are still too many people in our community who may not have a role model, who may not have access to information about their long-term career uncertainties, or who may not have a support network," Mr Yeldham said.
He suggested the organisation's programs could help alleviate fear and anxiety, provide role models and improve the mental health and wellbeing for the LGBTI community.
"Through building individual capacity and unlocking their potential, we can create long-term cultural and organisational change – especially in traditionally conservative institutions."