The intern: Being here has changed my life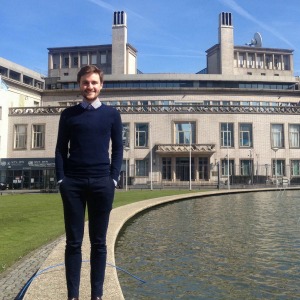 A young South Australian law student has spent the past six months working on the largest trial judgment in the history of international humanitarian law.
Thomas Wooden is in his final year of law school and is also an intern at the International Criminal Tribunal for the former Yugoslavia (ICTY). Alice Ramsay finds out more on the work Australians are doing at The Hague
Why did you apply for an internship at the ICTY?
Studying international humanitarian law was incredible. My mooting in particular really pushed me and made me realise I loved the jurisprudence, so I decided to start looking for internships online.
There's hot competition for these internships. How did you make it happen?
Yes, I didn't think I was going to get it when I applied for it. It felt like a one in a million. When the email came in to tell me I got it, it was 12.30am – I didn't sleep for hours!
The application process was mostly about getting a lot of documents together – cover letter, resume, letters of reference. I applied online through the UN's human resources gateway, Inspira.
I owe getting my internship to two of my professors Dr Dale Stephens and Dr Rebecca LaForgia from Adelaide University Law School. They gave me encouragement and support at every step of the way.
Your internship is in the Appeals Division of the Office of the Prosecutor (OTP). What are you working on?
I'm working on a case on appeal, Prlić et al. We're dealing with the biggest trial judgment in international humanitarian law history. The judgment is more than 2,500 pages and spans six volumes.
It has been incredible to be thrown into dealing with such a huge case. I have worked on analysing evidence, legal research and writing memos on specific areas of law. The internship has taught me a lot about research and analytical skills.
What is life like as an intern at The Hague?
I share an office with nine interns from nine different countries. For most of them English is not their native language, although their English is pretty amazing.
I'm living life with them. We work all day together and we also socialise together. We have dinner parties, we travel – I've been on trips to Istanbul and Italy. We're like family.
With a range of nationalities working so closely, does it ever get tricky? Is it harder than working with a bunch of Australians?
I think it might even be easier. Because we come from such different cultures, we're pushed to try to understand each other. With people from Australia, we all come from the same background and it can just come down to … competing egos. This is a less-competitive environment because you come from such different jurisdictions.
What has been the biggest highlight of your experience at The Hague?
Meeting interns and lawyers from all over the world. They are such intelligent individuals, some of the best legal minds I've met. Being here has changed my life. I have met so many incredible people.
Do you have any tips for others interested in applying for an internship in the international zone?
Get involved in the things you're interested in outside your studies. I think my time with the Model United Nations, my mooting experience and other things I'm interested in – like restarting the Pride Club of the University of Adelaide – have all helped me.
And when I look at the people I work with, many are into other things. They are musicians, radio hosts – they have interesting lives. Put simply, it's about more than just the studies.
On a practical note, how did you fund your internship?
My professors were great in helping me find sources of support. I received a Dame Roma Mitchell Scholarship and I also knocked on a lot of doors for sponsorship, including local Rotary clubs. 
Six months is a long time to go as an unpaid intern and sponsorship won't cover all my costs – but I can tell you, it has definitely been worth the experience.
What's next for Thomas Wooden?
I'm going to Eurovision for five days with a friend who is studying in Sweden; then after, some travel in Europe. I have one more year of my law degree. Over the summer I will do another internship with the Extraordinary Chambers in the Courts of Cambodia.
Longer term, if my dream to do a duet with Jessica Mauboy at Eurovision doesn't come true, I hope I'll be working for an organisation that I love, an organisation with meaning. I have a broad interest in international law and would like to taste different aspects. So I don't know exactly where I will be. I never confine myself.
Alice Ramsay is an Australian writer and lawyer based in The Hague. This is the first in a series of profiles of Australian lawyers working at The Hague.
The views expressed in this article are the personal views of the interviewee and do not necessarily reflect the views of the ICTY and/or the United Nations.