Sunshine state's 30 Under 30s take government prize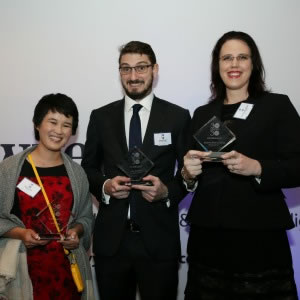 Two out of three winners in the Lawyers Weekly 30 Under 30 government category hailed from Queensland this year.
Stepping up to take their awards at a cocktail event held at the Establishment on 5 June, the three lawyers joined 27 other winners from across Australia.
Luke Grayson (pictured centre) from Colin Biggers & Paisley told Lawyers Weekly he was "pretty surprised really" to be taking home the award.  
Among his career achievements, Mr Grayson counts advice given to a number of public sector clients, including Sunshine Coast Regional Council, Ipswich City Council and Logan City Council.
Mr Grayson has contributed to discussions in the government sector by penning a number of articles on infrastructure funding and delivery.
"Luke's work with government often involves solving unique legal and policy issues, for which there is no precedent," said partner Ian Wright.
"I am continually struck by Luke's ability to dissect such issues by cutting to the core of the legal and policy problem and identifying and implementing a solution in the public interest."
One of Mr Grayson's innovative ideas for the government sector is the coupling of environmental offsets with planned infrastructure charges to encourage environmentally-friendly projects.
Stella Loong (pictured left) is a 29-year-old government category winner from Ashurst in the ACT.
Highlights of Ms Loong's career include a secondment to the Procurement Contracting and Support Branch of the Maritime Systems Division of the Defence Materiel Organisation, and a secondment to the North Australian Aboriginal Justice Agency in Katherine, in the Northern Territory.
One referee described Ms Loong's natural enthusiasm, commitment and energy as impressive.
Suzanne Kathryn Brown (pictured right) from McKays Solicitors in Queensland was the final winner in this category.
One of her career highlights is becoming one of only four female Queensland Law Society business law accredited specialists. Another is "balancing motherhood while still pursuing my career goals".
In 2012, she became a director of North Queensland Bulk Ports Corporation, which is responsible for some of the major coal export ports in Australia. She is the only woman on the seven-member board and the youngest by 20 years.
Ms Brown believes that the government can drive efficiency by simplifying regulations and providing greater clarity around compliance.
"There is just far too much red tape and government organisations need to be positioned to adopt a 'private sector' way of thinking and doing business if they are to be sustainable," she said.
CEO of Mackay Regional Council Barry Omundson described Ms Brown as "the most talented legal professional I have ever worked with".