Small state lawyers seek share of government pie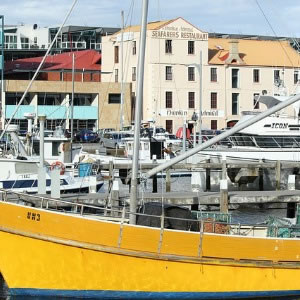 As South Australia moves to increase the number of government contracts going to local firms, the Law Society of Tasmania has called for similar action.
State Treasurer Tom Koutsantonis announced last week that the government planned to bolster the minimum participation of South Australian companies, including law firms, in state projects.
As of next month, state government tender evaluations will have to give a minimum weighting of 10 per cent to "local jobs", or 15 per cent for contracts worth more than $220,000.
For specific projects, including the $93 million Northern Adelaide infrastructure project, the weighting for local companies could be set as high as 20 per cent.
The Law Society of South Australia welcomed the news, citing the hope that more South Australian firms would be brought onto government projects.
"South Australian law firms have the expertise to undertake complex commercial legal work," it said in a statement.
"For South Australia to be able to boast of having the brightest and best talent, local firms should be entrusted to take on the work arising out of major government projects."
In particular, the Law Society of South Australia cited a "sluggish economy" and "high unemployment" as key reasons for favouring local firms.
According to Law Society of Tasmania president Matthew Verney, protection for local lawyers is badly needed in Tasmania as well.
While Mr Verney said the government's policy is to employ local firms where possible, he cited two instances in the past 12 months of high-profile state government and Hobart City Council work going to mainland firms.
In November 2014, the state government brought in Melbourne-based lawyers from Herbert Smith Freehills to act on a pay dispute with public sector unions at the Industrial Commission.
In April of this year, the Hobart City Council hired a Sydney-based barrister to act on a property development dispute.
"It seems to me that the governments, both local and state, pay lip service to prioritising local firms," Mr Verney said. "But when they really have the opportunity to put their money where their mouth is, I don't think they necessarily follow through."
While he denied being "protectionist", he suggested the government needed to take "actual action on the part of governments, state and local, in implementing the policy they say they already have".
He suggested a similar approach to what was introduced in South Australia could be a "good idea" in Tasmania.
In the Northern Territory, Law Society president Tass Liveris suggested cases where the clients are based in the Territory, and involve causes of action arising in the Territory, should involve the local legal profession.
"The society acknowledges that there may be occasions where specialist expertise is required and cannot be provided by the local profession, but in the main the society considers that consumers benefit by having the widest availability of legal service providers with expertise in Northern Territory law and procedure," he said.
"It is especially important to ensure that the law practices outside of the greater Darwin area are not effectively precluded from being awarded government work as a result of government brief-out policy."
While the Law Society declared support for the government's use of a list system for sourcing firms, Mr Liveris said he was "supportive of regular reviews of the process and any changes that might enhance it".
Like this story? Subscribe to our free newsletter and receive Lawyers Weekly every day straight to your inbox.