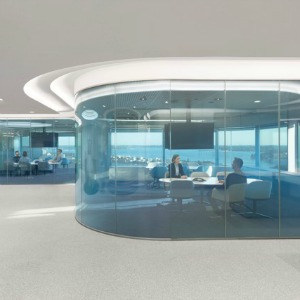 The growing influence of technology means even firms resistant to open-plan offices must embrace mobility and flexibility, according to Carr Design Group.
Speaking with Lawyers Weekly, Carr Design Group's director of commercial interiors, Dan Cox, said that the trends he's seeing from legal practices is the desire for mobility within the workplace and multi-use functions to every space.
"There's a massive trend around moving from having very static technology to more mobile technology, and that has then started a shift in the way the office is planned," Mr Cox said.
"People previously would've, particularly in legal, had a PC tethered to the desk and they really didn't have the ability to unclip and move around, but now people want to be able to unclip a laptop and move to a different space."
Mr Cox said that while in the past lawyers spent more than 90 per cent of the day at their desk in their office, now the figures are showing they spend so much time moving around and going to meetings that they are in their office for less than 50 per cent of the day.
"One of the key challenges is making sure that every single space doesn't have just a singular purpose," he said.
"So, really, looking at meeting spaces, seminar and training spaces, and the breakout spaces and trying to create multiple functions that can occur within each of those spaces to give a greater sense of flexibility."
This gives the lawyers greater choice in where they work throughout the day, and they don't always have to be tied to their desk.
Carr Design Group has been working with Norton Rose Fulbright for the last 11 years and has seen significant change within its layout preferences over time.
The most recent work Carr Design Group has done for the firm in its Perth office (pictured below) has seen most offices eliminated apart from the partners' offices, which have themselves become a central hub for each partners' team of junior lawyers and support staff.
"That typical planning where you've got a corridor with offices either side, where the partners get the window offices, the senior associates get the internal offices and everyone else is open plan has really been flipped on its head," Mr Cox said.
"The partner offices have become much more centralised, with everyone else sort of orbiting around to create a little hive of activity. The partner offices are now actually a collaborative space for the team to come together."
Mr Cox said that firms have to be careful to balance the desire for collaboration with the need for lawyers to be able to work without distraction.
"There is so much digital disruption in our daily lives, emails popping up and the phone ringing and all that, and the need to have the ability to find space and to have significant focus is increasing," he said.
"I'm not saying we're going to end up with everyone back in offices by any means but what I do think is there's going to be greater levels of consideration for spaces that accommodate those types of working, that aren't necessarily private offices."