Bricks and mortar investors attached to tangible transactions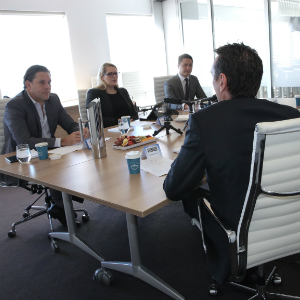 Paperless transactions offer lawyers and clients both speed and convenience; however, there is a psychological barrier to jump in the property space, Baker & McKenzie partner David Jones has said.
With Australia's very first paperless property sale executed last month, some have predicted a near future of electronic transactions, where there are no paper contracts. However, one property partner believes there is some way to go to assure property investors e-transactions are best.
While Baker & McKenzie partner David Jones believes a paperless reality is within reach, he said the client preference for "tangible" things was a live issue, and a consideration unique to investors in the property space.
"We quite often do electronic exchanges in the commercial space with hard copies to follow, which is one step there, but you will always have clients who want to come and have a signing ceremony, where they can view, sign and take photos. It is something tangible, which really goes hand in hand with property," Mr Jones said.
Speaking at a Lawyers Weekly technology roundtable discussion supported by Infotrack, the Bakers real estate group head said that his practice was focused on innovating legal processes, but with the psychology of client confidence in mind.
Mr Jones suggested that bricks and mortar buyers, particularly those investing from overseas, derived a level of assurance from the tangible. The psychology extends beyond a physical piece of paper to the occasion that comes with two parties signing a document together and shaking hands.
"A lot of our foreign buyers, particularly, like to have a piece of paper; they like to come and have a signing ceremony, whether it's for an apartment or an office building. That is something that is always in the back of our mind as we began to offer these things to clients," Mr Jones said.
Mr Jones added that he hoped a paperless reality would arrive sooner rather than later, saying the rapid changes that legal processes have experienced in the last five years were a sign that things would change.
"What we're doing online and with technology data rooms in conveyancing in all sorts of aspects is miles ahead of where it was three to five years ago. I think it's still got a long way to go," Mr Jones said.
"Partly that's because it still hasn't been adopted by as broad a range of people in the legal industry as it could be. Once that starts to happen then you get people feeding back into the systems … The whole paperless office thing we've been talking about for many years will be more of a reality for the big law firms," he said.
"We'll be seeing [law firms] do a lot more with technology and hopefully a lot of things that we haven't even thought of yet," he added.
The Technology Transaction roundtable discussion was hosted by Lawyers Weekly in partnership with InfoTrack.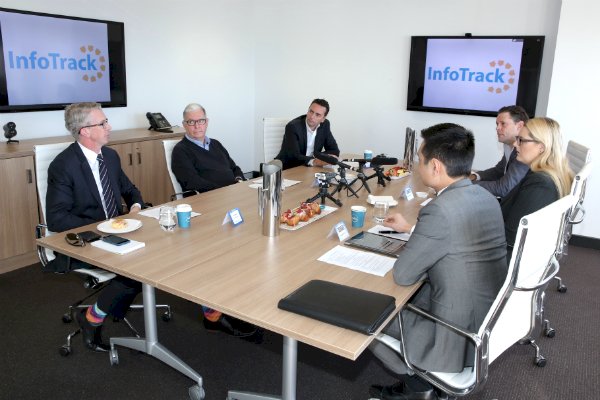 L-R: Baker & McKenzie real estate group head David Jones, Colin Biggers & Paisley property partner Mark Morgan, InfoTrack CEO John Ahern, Lawyers Weekly managing editor Phillip Tarrant, Claire Martin of Kreisson, and Clayton Utz senior associate Eugene Tan.