How to... Overcome a legal existential crisis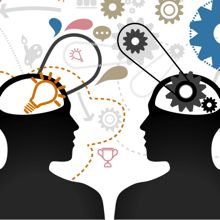 Overwhelmed and pondering his decision to study law, student Daniel Miles explains how to recover from an existential crisis.
Overwhelmed and pondering his decision to study law, student Daniel Miles explains how to recover from an existential crisis.
Studying law can be an overwhelming experience. Overwhelming in a mental, physical and sometimes metaphysical sense. The latter led me to a bit of an existential crisis. This sent me mad. Basil Fawlty style. What am I doing? Why am I doing this? I am drowning in textbooks. Why is this legislation talking back at me? Be quiet, section 51(1)(b). Section 52 is trying to sleep. Why don't judges write in Comic Sans? That would make things better.
See what I mean? Absolute nonsense.
The overwhelming thing is the enormity of the knowledge required. For example, during the coming exam period, I have three law exams. Each exam is worth 100 per cent of the unit it represents. One of those is closed book. Queue breakdown.
As this cloud of realisation descended over me, I began to attack Uni with the intensity of a dripping tap. Lectures became boring, tutorials tiresome, as I slowly drowned myself in the anticipation of total collapse.
Like Karl Stefanovic on the morning after the 2009 Logies, I was struggling. Everything was just too large to deal with. Lucky I wasn't on national television.Â
On my way into Uni one day, I overheard two plumbers talking to each other. They were speaking another language. Well, not quite. They were speaking English but in a way I had never heard. Valves and wrenches; boilers and washers; back flow preventers and wrought something-or-anothers. Â
As I strolled past them, with my Law Student swagger about me, I realised something: that the Law is a trade. Nothing more or less. Think about it. We go to University to learn a pre-determined set of skills. Skills we must have 'passed' in order to be allowed to practice in our State. Within each subject is a collection of smaller knowledge requirements. Simple.
This thought immediately halted my oncoming breakdown. I was over the moon. My mind immediately erupted into its own Blue Sky Session. Ideas were flying. If the Law was a trade, all I needed to do was cover each small topic. Bit by bit. Things didn't seem so big anymore.Â
Let's consider some similarities between lawyers and tradespeople. Many tradespeople wear singlets to work; live exclusively on iced coffee; and perform a specialised service for money. Lawyers don't (unfortunately); do (not iced, though); and do respectively. Two out of three ain't bad. We're not that different, us and them. And after all, we're only ordinary...
Where did Meat Loaf and David Gilmour come from? They must've been hiding in section 51(1)(b).
The point remains, however. If a plumber walked past me and a friend talking shop, he or she would be barraged with technical terms, too. Mens rea; actus reus; prima face and double shot, no sugar, skinny. Some of that actually is another language.
What, then, separates us and them? Nothing in a structural sense - we just need to know different things. Us students just tend to attach a bit more stress to things. So, I suppose it's all about the context. I'm more than happy to be a legal tradesman.    Â
Unfortunately, though, I've never heard of a plumber being hired because he or she wrote incredibly amusing and exceptionally well written articles on 'thenewplumber.com.au'.
Oh well, at least I've got my sanity.
Daniel Miles is a law student at Monash University. See his 'How to... handle your first legal job' here.Â