Students invited behind closed doors of domestic violence court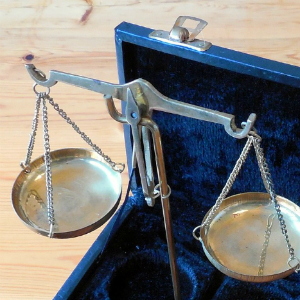 A new work experience program offers law students exposure to work in Queensland's first dedicated domestic and family violence court.
Carriage of domestic violence matters is not only heavy in subject matter but also caseload. A new clinic established by Bond University and the Domestic Violence Court in Southport has been set up to offer law students a taste of the everyday challenges that practitioners in this area face.
Law student Katrina Ukmar, who is part of the first cohort of participants, said the clinic offered a unique insight into proceedings that otherwise remain behind the doors of the closed court.
"These cases are often heard in a closed court, so to be able to have access to the courtroom and the magistrate is something you would never usually get to experience as a law student.
"It [has] been amazing to see the great work that is happening, and steps that are being taken to address this important issue," Ms Ukmar said.
Students involved in the Domestic Violence Court Clinic are given the opportunity to observe civil and criminal court proceedings and watch a range of matters progress from initial application to contested trials. The five-week program will involve working with the court registry and shadowing a presiding court magistrate for one day a week.
According to magistrate Colin Strofield, the new clinic is an example of the community addressing an endemic social problem. Importantly, he believes the experience will serve to educate the lawyers who will go on to service future victims.  
"The definition of domestic violence is varied and often misunderstood. Educating students in the definition of domestic and family violence and best practices is a key component for change in the future," Mr Strofield said.
"I'm optimistic that this opportunity to observe the practical application of legal studies, together with gaining the perspective of aggrieved and responding parties of domestic violence, will assist and inspire students in their future careers in legal practice," he said.
Mr Strofield acknowledged that eliminating the scourge of domestic and family violence would be a long journey, which is why educating tomorrow's lawyers is critical.
"Partnerships between universities and key stakeholders will prove invaluable as the commitment to change continues," Mr Strofield said.
Program co-ordinator Assistant Professor Jodie O'Leary said the concept of the clinic was motivated by a 2015 report into domestic and family violence, commissioned by the Queensland government.
"One of the issues highlighted in the Not Now, Not Ever report was the need for universities to identify suitable ways to incorporate education and training around domestic violence prevention into undergraduate courses.
"We see the Domestic Violence Court Clinic as a way we can implement the report's findings, while also giving our students valuable real-world experience to prepare them for legal practice," Ms O'Leary said.
As part of the program, the students are briefed by a clinical and forensic psychologist about the confronting nature of some of the matters. They also receive a legal briefing about the nature of relevant laws dealt with by the court.
A mix of five LLB and Juris Doctor students from Bond have been selected to participate in the first clinic. They are: Melissa Bate, Nakisa Djamshidi, Tess Lehn, Chelsea McClatchy and Katrina Ukmar.