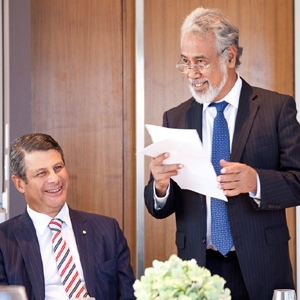 A Melbourne-based commercial law firm has played host to East Timorese Prime Minister Xanana Gusmao at a luncheon held earlier this week.
Cornwall Stodart hosted and sponsored a lunch with Gusmao and 20 other VIPs in the lead up to Gusmao's bid for another five-year term as the Prime Minster of East Timor.
Cornwall Stodart consultant Peter McMullin, who has spent significant amounts of time in East Timor, said he believes Gusmao, who has managed a coalition government for the past five years, is the only person who can make a real success of the country.
McMullin has had a long association with the Victorian Employers' Chamber of Commerce & Industry and is advising and mentoring Gusmao in relation to the establishment of a Chamber of Commerce in East Timor in 2010.
Former Victorian premier Steve Bracks also attended the lunch. He is advising Gusmao on governance arrangements and has been involved in the establishment of the Chamber of Commerce, an Anti-corruption Commission and the Civil Service Commission.