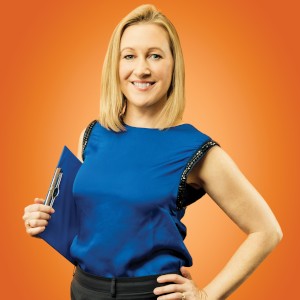 There are four ways that legal professionals can use mobile technology to revolutionise the way they practise law, according to the CEO of LEAP.
Speaking at Lawyers Weekly's inaugural Future Forum, LEAP CEO Bobbi Young (pictured) outlined four ways to use mobile technology that can allow legal professionals to provide better client service and attract and retain more clients.
"The first one is to provide excellent client service, even when you're away from the office," she said.
Ms Young pointed to a polling question opened to the crowd at the Future Forum: 'Do your clients have smartphones?'. She noted 94 per cent of those who took part in the poll indicated their clients do have smartphones, while 6 per cent were unsure.
"Businesses are lagging behind consumers in adopting technology because, in reality, if your clients are mobile and tech-savvy they will expect you to be as well," she said.
Ms Young noted a recent example of a lawyer who was unable to provide excellent client service, given they were away from the office and didn't have adequate mobile technology.
"I've instructed a couple of lawyers recently. I would describe both of them as not being tech-savvy. One of them was a rep for a medium-sized firm that I needed to draw up some documents for. Because we were both travelling rather than arranging a face-to-face meeting I'd suggested we meet via a video conference, but I had to give them a whole lot of training on how to use video conference technology," she explained.
"That's just one example. It can be very off-putting for the tech-savvy consumer if your lawyer isn't tech-savvy and you're not the one that's the technological person in the room.
"Having a mobile working model is a win-win. Being able to work during a long commute or while waiting at court will keep your clients happy and it will help you clock off at a reasonable hour. No longer do you have to race back to the office to send that email or access that matter file."
The second way legal professionals can revolutionise their practice is through firms giving staff time to build strong client relationships by automating work processes where possible, according to Ms Young.
"When it comes to retaining clients it all comes down to how your clients are treated. Firms that spend time building positive relationships and show genuine interest in the individual will generally have a larger base of satisfied clients. This is good for the firm's bottom line and for growing their client base by word of mouth," she said.
"The key here is to have high-quality practice management software to help your staff do their job more efficiently. The right practice management software will save your firm many hours per week by automating most of the manual processes.
"Manual work is time-consuming. It increases the risk of errors and erodes staff motivation. Leading firms should ensure that employees have access to a system that accommodates single sign-in to a suite of integrated software so that staff can quickly move between multiple systems required to complete a matter.
"When simple but essential tasks are done efficiently, you can focus your staff's time on things that technology can't do, so things like interpreting the law and helping clients, which will really help strengthen those client relationships."
The third way to revolutionise legal practice is building trust with clients by providing the best data security possible, Ms Young said.
"When choosing a law firm, prospective clients want to know that your system will keep their information safe and confidential. While having a server in your office may seem cost-effective and secure, they are generally an unnecessary burden for most firms. Today the most secure way to store your data is to have it hosted in a cloud-based server," she said.
"The benefit of a cloud-based server is that you no longer have to constantly update and upgrade your data security requirements, so there's a lot of cost savings there as well. Good software providers will store your data with a professional data hosting company so you have access to high security and encryption, while eliminating the cost of buying, maintaining or recovering data from a damaged server in your office.
"Choose a software provider that offers servers hosted in your country of operation. Also choose one that offers third-party security accreditation."
Ms Young said the fourth way to revolutionise the way legal professionals practise is by integrating systems so that client information is easily accessible.
"It is vital for firms to have a practice management solution that not only gives you easy access to matters and client details but also helps you work so that you can provide the best client service possible," she said.
"Whether you're typing an email, setting a time, recording an entry or creating an invoice for your work, clients need to see that you are providing the best advice and service at the most competitive rate. Clients will like that you're using technology that you can work more efficiently with and not overcharge them with as a result.
"Having practice management software that allows you to prefill emails [and] attach time records to matters offers great benefits in time and costs for both you and your clients. Plus being able to clearly and quickly access matter information, invoices and correspondence from your phone or tablet looks far more professional than rifling through printed matter documents in your manila folder. It is a simple but effective way to deliver better client service."
The Lawyers Weekly Future Forum was held in Sydney on 9 November and in Melbourne on 11 November, with around 400 guests in attendance.
To learn more about the event, click here.