Messy info systems could cost firms millions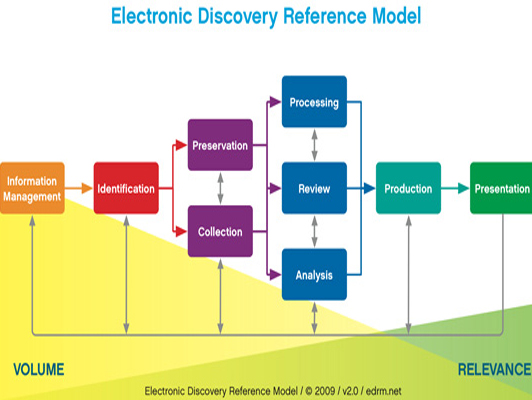 Law firms are "notoriously bad" at organising information and it could cost them, according to an e-discovery professional.
Speaking at the Australian Corporate Lawyers Association (ACLA) 2012 Victorian Corporate Counsel Day on 15 March, Allison Walton, an e-discovery attorney at Symantec responsible for consulting with corporate legal departments and outside counsel, said one of the most common problems within law firms is the mismanagement of information.
"Not knowing where your information resides, having too much of it, having duplicate copies of it, keeping everything forever thus making search more and more difficult as time goes on," said Walton.
On 15 March Walton will attempt to convince lawyers gathered at the ACLA conference of the importance of implementing an "end-to-end archiving solution" across an "electronic discovery reference model" (pictured), to drive down costs, improve efficiency and minimise legal risk.
"E-discovery has been a very expensive, painful process in America over the last 15 years and some of that has started to happen in Australia. The same trends of over-collection, having to sort through duplicates, being at the mercy of outside service providers and their bills, and generally not owning the process," she said.
Walton aims to accelerate that "painful process" in Australia, by giving those who own information within law firms, power over it.
"That's the information governance message I want to get across," she told Lawyers Weekly.
One area of growing concern in the US according to Walton is that after a matter is over, law firms are "infinitely retaining" all of the data because they don't want to revisit a malpractice claim.
"A law firm is a guardian of many different matters and tonnes of different pieces of sensitive information end up getting all mixed up together and probably don't have the right security parameters around them," she said.
Counting costs
According to Walton, there are a number of cases in the US where firms have been penalised millions of dollars for failing to have information management tools in place.
"It's not a scare tactic," she said, "but it sure sounds scary".
In September 2011, South Korea-based company Kolon Industries was sanctioned $919.9 million for stealing trade secrets concerning the production and marketing of Kevlar from DuPont, a US chemical company.
The issue in the intellectual property dispute, DuPont v. Kolon Industries occurred when several Kolon executives and employees deleted thousands of emails and other records relevant to DuPont's trade secret claims.
The court placed the blame for this destruction on the company's attorneys and executives, reasoning that they could have prevented the spoliation through an effective litigation hold process.
"The DuPont case underscores the importance of issuing a timely and comprehensive litigation hold notice," said Philip Favro, an e-discovery attorney at Symantec, adding that organisations should consider deploying the latest technologies to help effectuate this process.
Walton said corporate lawyers have more responsibility to their corporation than "just managing the outside law firm and critical legal issues".
"They actually have a business responsibility to get compliance, records, IT, legal and anyone else that has a major stake in the lifeblood of the organisation – which is the information – to the table to talk about what responsibility they have with the information governance model," she said, adding that everyone should be paying for it, not just IT or legal.

"I feel like people just don't understand that if they're an international business, and especially if they have subsidiaries in the US, they're going to be [subject] to [US] laws and not understanding those laws is going to cost them 500 times more than just having implemented a regular system."