Practice Management on your iPad
If you love using your iPad, for a fraction of the price of traditional software packages, the BusiBI My Practice app from busibi.com (iTunes US$6.99) provides a comprehensive, intuitive feature set.
Manage clients and matters, schedule meetings, link documents, add notes, configure billing schedules and reminders, import contacts from LinkedIn, track actions, scope, unpaid bills and agreed rates. It even works without a network connection.
For a small fee, you can even brand and configure your own app for deployment into the App Store. Who wouldn't want to have their own App?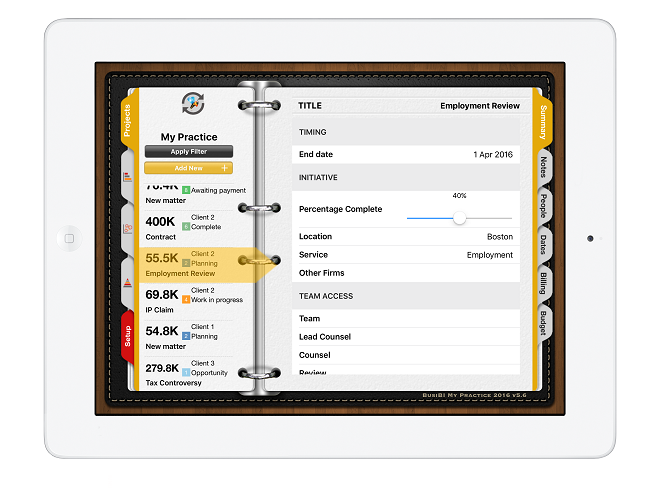 Automated time, expenses and…lighting?
If This Then That (ifttt.com) automates repetitive tasks with hundreds of pre-baked automation Recipes that span devices and networks. Instruct your smartphone's GPS to automatically log how much time you spend at home/work/etc into a spreadsheet. Or perhaps automatically make a copy of documents stored in Dropbox to Google Drive. You can even program smart bulbs and other smart appliances to turn on and off.
Simplify discovery responses
DISCO (csdisco.com) partially automates the painstaking process of responding to discovery requests by allowing you to scan in the PDF request and interleave common responses to the opposing side's questions, reducing reliance on third party vendors.
Secure browsing with free VPN
Every customer sharing the Wi-Fi hotspot at your local café can see what you're browsing over an unencrypted connection. The popular Opera Browser (opera.com) offers 500MB/month of VPN encrypted downloads for free once you install their SurfEasy Proxy extension. As well as encrypting your connection an added bonus is you can access US/UK content and pricing.
The Internet without the ads
Once you've seen how uncluttered the Internet is without any advertising at all, it's very difficult to go back. With over 400 million downloads, Adblock Plus (adblockplus.org) from German tech firm Eyeo GmbH has become a global standard. Improve your productivity by removing click-baiting distractions.
Reduce collection timeframes
Perhaps it's just the incentive of frequent flyer miles, but clients make electronic payments substantially faster than paying bills via more traditional methods. If you've been thinking about supporting credit card payments in your office, PayPal has launched a new card reader in Australia for small businesses. It's available from Officeworks for $149 and can be passed around the office easily (although it's paired to a smartphone) and supports AMEX, Visa and Mastercard.
Silent storage
If you find yourself sharing confidential files with colleagues via USB keys on a regular basis, it's likely you need networked storage. Whilst some NAS devices make you buy and install your own hard drives or have noisy fans which aren't appropriate for an office, the WD My Cloud EX2 device is silent, reliable and low maintenance, straight out of the box. $899 + delivery from kogan.com.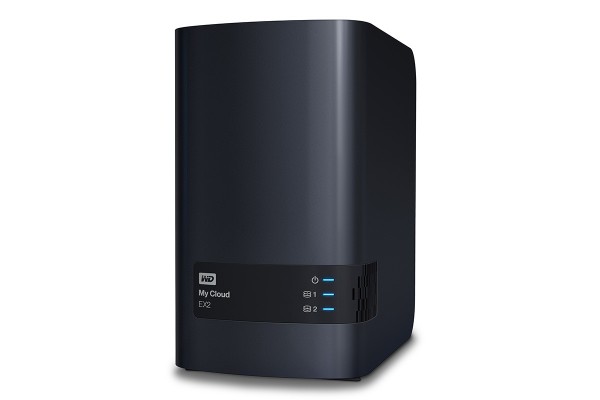 The ultimate desk
Not just an art piece, the new DK-04 US$1500 motorized adjustable height standing desk computer from Lian-Li can improve your posture and clear some extra space. Lian Li have won numerous awards for their computer housings that merge form and function.