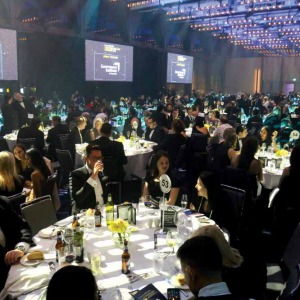 The best lawyers, legal teams and law firms across the country have reached new heights at Lawyers Weekly's 2016 Australian Law Awards.
Lawyers are known to be high achievers, wanting to continually improve themselves as individuals as well as for the benefit of their firms.
The winners of the 16th annual Lawyers Weekly Australian Law Awards have shown exactly how competitive and successful they are.
From law students through to general counsel and managing partners, the individuals in Australia's legal profession are soaring high.
Outside of private practice, we paid tribute to the contributions that sole practitioners, in-house lawyers, barristers and academics make to the profession, as well as the unrivalled upkeep from business development specialists and legal support experts.
As many lawyers know, it's difficult to conquer big matters on your own, so credit must also be given to legal teams. After all, graduates, associates, senior associates and partners working together to achieve greatness in specific practice areas is worth celebrating.
Finally, we must recognise the teams that are the building blocks that push law firms to new pinnacles, giving them their reputation and recognition as the best in Australia.
From boutiques to BigLaw, firms at the 2016 Australian Law Awards were celebrated for their efforts in areas such as innovation, diversity and pro bono programs.
Over 800 people gathered at the Four Points by Sheraton hotel in Darling Harbour, Sydney on 2 September to witness the announcement of this year's winners.
Guests dressed up for the occasion and were treated to a divine three-course meal while being entertained by Logie-award winning actor and writer Rob Carlton.
So without further ado, Lawyers Weekly congratulates all the winners of this year's Australian Law Awards. Your outstanding accomplishments and commitment to the legal profession are of true value.
CORPORATE AWARDS
Boutique Law Firm of the Year: Proximity
Canberra-based Proximity is focused on the government sector and has grown substantially in its four years of operation.
Proximity embraces multidisciplinary teams made up of lawyers and non-lawyers to offer full-service packages with an emphasis on on-site consultancy and procurement.
Proximity recently partnered with Indigenous law firm Terri Janke and Company to help both firms win more work under the Commonwealth Indigenous Procurement Policy, as well as having wider societal benefits.
Employee Program of the Year: Herbert Smith Freehills
In September 2014 HSF developed a firm-wide mindfulness strategy, to help combat the mental health issues entrenched in the legal profession.
As a signatory to the Tristan Jepson Memorial Guidelines, HSF aims to provide its employees with services and benefits that support their psychological and mental health, and minimise unnecessary stress at work.
Over the last 12 months 120 HSF staff have participated in the program, recording positive changes.
Innovator of the Year: LegalVision
LegalVision is innovative right down to its core, with an online, tech-driven model that allows the quick turnaround of quality legal work on a fixed-fee basis.
LegalVision provides free documents and legal information online and has developed an in-house tech platform for its clients called Prism.
Further, the firm has an innovative employment model, working with a large pool of casual lawyers that allows the firm to provide very quick turnaround times.
Law Firm of the Year: Gilbert + Tobin
With approximately 340 lawyers, national law firm Gilbert + Tobin was involved in some of the highest-profile and most innovative transactions of the last 12 months.
Gilbert + Tobin has a strategic relationship with start-up law firm LegalVision and recently relocated its Sydney office, embracing a fully open-plan layout.
With a reconciliation action plan, an Indigenous employment program and a dedicated pro bono team, the firm exceeds the Australian Pro Bono Centre's aspirational targets.
Pro Bono Program of the Year: Robina Community Legal Centre Inc.
Robina Community Legal Centre, an initiative of local lawyers via the Gold Coast District Law Association, opened in 2014.
RCLC is a nationally accredited community legal centre; however it is one of two Queensland CLCs not funded by the state or federal government.
The centre leverages millions of dollars' worth of pro bono volunteering from more than 1,000 Queensland Law Society and Queensland Bar Association members, as well as local law students.
Regional/Suburban Law Firm of the year: Harwood Andrews
Harwood Andrews is one of the largest and oldest regional law firms in Australia, operating for over 170 years.
Last year Harwood Andrews was certified as a B Corporation (BCorp), one of only three law firms in Australia to receive the certification.
In 2015, Harwood Andrews became the only regional firm appointed to the Victorian Government Legal Services Panel, in the areas of property and planning and environment.
INDIVIDUAL AWARDS
Academic of the Year: Erika Techera, The University of Western Australia
As the UWA law faculty dean, Ms Techera has introduced myriad initiatives to better prepare students for the future. These include new programs and subjects, ways for students to engage with academics, and experiential opportunities.
She championed the introduction of a clinical legal education program involving internships with law firms, NGOs and government agencies, as well as intensive placements in regional WA.
Ms Techera also championed the introduction of nine new postgraduate programs.
Barrister of the Year: Dominique Hogan-Doran SC, St. James' Hall Chambers
During FY2015-2016, Ms Hogan- Doran worked as an advocate and adviser to a range of clients in her specialist areas of corporate governance and financial services law.
Over the year she appeared in superior courts and tribunals, as well as royal commissions and corruption inquiries when complex governance and financial matters arose before those bodies.
In September 2015 Ms Hogan- Doran was the only female commercial barrister appointed senior counsel in NSW.
Business Development Professional of the Year: Monique Langley, Curwoods Lawyers
Ms Langley has been instrumental in retaining clients and winning new clients for Curwoods Lawyers.
Her role is client-facing and she has built a trusted adviser relationship with both internal stakeholders and clients, leading to increased revenue and profitability and positive client feedback.
In FY2015-2016, in response to identifying a key risk to 80 per cent of the firm's revenue through the lack of a consistent client management strategy, Ms Langley devised and implemented Curwoods' first key client program.
Dealmaker of the Year: Philippa Stone, Herbert Smith Freehills
Ms Stone, who is the joint global head of the HSF equity capital markets team, took out the Dealmaker of the Year award for the second year running.
Ms Stone worked on many of the largest multibillion-dollar deals in Australia during FY2015-16.
This included advising Brookfield Infrastructure and its consortium partners on the $13 billion joint acquisition of Asciano and associated 'break-up' sales of Asciano's ports and BAPS businesses.
General Counsel of the Year: Claire Bibby, Brookfield
As the senior vice-president and general counsel of Brookfield, Ms Bibby is responsible for Brookfield's property and corporate operations across the Asia-Pacific region and represents a client base of 4,000- plus staff.
Her team is fully embedded in the business, leading transactional negotiations, overseeing disputes and keeping risk management on clients' radar.
Ms Bibby is a member of the Association of Corporate Counsel NSW executive committee, chairs the Corporate Counsel Day committee and participates in the ACC's mentoring and diversity & inclusion committees.
In-house Lawyer of the Year: Michael Johnston, Westpac
As Westpac's head of employee relations, Mr Johnston developed and led a five-year, organisation-wide program to overhaul Westpac's complex, prescriptive and outdated industrial instrument and employment framework, culminating in December 2015.
This included reducing 19 enterprise agreements to one modern enterprise agreement, and six enterprise awards to one modern award, among other achievements.
The final product, Westpac's 2016 Enterprise Agreement (EA2016), is a single, industry-leading, contemporary EA covering Westpac's 30,000 employees.
Law Student of the Year: Naomi Wootton, Australian National University
Ms Wootton has maintained a GPA of 6.9 throughout her degree and achieved high distinctions in every law course she has studied bar one, earning seven academic prizes and two academic scholarships.
She recently completed a clerkship at KWM and currently works at Burley Griffin Chambers as a law clerk and at the National Judicial College of Australia to maintain the 'Principles and Practice' component of the Commonwealth Sentencing Database.
Legal Support Professional of the Year: Kerry Dillon, McCullough Robertson
Ms Dillon provides secretarial support to two lawyers and three partners in McCullough Robertson's property planning and finance group, and supervises the support staff across half of the firm.
On top of this she manages the firm's reporting suites for its banking clients and ensures they keep up to date with PPSR registrations and training across two offices.
She is also a leading proponent of the firm's mental health and wellbeing program.
Managing Partner of the Year: Rob Cutler, Clayton Utz
In FY2015-16 Mr Cutler personally led, oversaw or championed the launch of Clayton Utz's new client service program, national graduate program, LGBTI Alliance, domestic violence policy and flexible work policy.
He also contributed to the enhanced parental leave policy, the relaunch of the Clayton Utz alumni program and the redevelopment of the firm's Reconciliation Action Plan.
He also actively champions the Clayton Utz pro bono practice and participates in initiatives such as the Vinnies CEO Sleepout and Movember.
Partner of the Year: Mark Chapple, Baker & McKenzie
Mr Chapple is a partner in Baker & McKenzie's dispute resolution group, having returned to practice in 2010 following five years as the firm's full-time Australian managing partner.
Mr Chapple's focus since 2011 has been the defence of AECOM Australia in the CLEM7 proceedings.
He led a team of two senior and two junior counsel and a core team of nine other lawyers, while Baker & McKenzie had 11 opposing law firms and over 30 opposing counsel.
Regional/Suburban Lawyer of the Year: Danny Frigerio, Maurice Blackburn Lawyers
As a principal at Maurice Blackburn Lawyers, Mr Frigerio established the firm's north-eastern personal injury practice in Wangaratta, Victoria in 2010.
He addresses client issues relating to accessing the law in regional areas, especially distance, stress and travel costs, by issuing proceedings out of local courts, insisting mediations and case conferences occur locally, arranging for barristers to meet with clients in regional areas, and using technology such as Skype for clients to liaise with other lawyers in Melbourne.
Senior Associate of the Year: Goran Gelic, McCullough Robertson
Mr Gelic is the leading senior associate in McCullough Robertson's projects practice, and he has worked extensively in building information modelling (BIM) over the last year.
Through his BIM expertise he has introduced a new service offering to the firm, which has attracted new clients and expanded work with existing clients.
He has advised on a 'first of its kind' BIM dispute, advised state government on BIM policy and major BIM-based projects, and advised designers on BIM liability issues.
Sole Practitioner of the Year: Justin Sprogis, Catalyst Legal Systems
Mr Sprogis left the world of BigLaw less than two years ago to set up his own practice, allowing him to embrace innovative finance technology such as bitcoin and blockchain.
He has worked for large clients such as the Commonwealth Bank of Australia and Westpac Banking Corporation on major financings for what will become iconic property developments in the Sydney CBD.
Mr Sprogis also offers his services as a shortterm consultant to major law firms.
Special Counsel of the Year: James Morris, Norton Rose Fulbright
Mr Morris focuses not only on billable work, but also market leadership, academic contribution and pro-bono activity.
He acts for nearly all major domestic and international banks operating in Australia, and is the only non-partner ranked in Chambers Global and Chambers Asia-Pacific in the debt capital markets category.
He is currently completing a doctorate at UNSW, with a focus on the development of the Australian corporate bond market.
Young Gun of the Year: Smriti Arora, King & Wood Mallesons
As a solicitor in KWM's financial markets and regulation team, Ms Arora works on complex matters and demonstrates technical skill beyond what is expected of a lawyer of her age.
She is part of the firm's fintech core strategy team, sits on the engaging women steering committee, is a member of KWM's human rights law group and acts as a 'buddy' for summer clerkship candidates.
Ms Arora also completed a three-month secondment at Westpac Group.
GROUP AND PRACTICE AREA AWARDS
Banking and Finance Team of the Year: King & Wood Mallesons
The King & Wood Mallesons banking and finance team acts for some of the largest and highest-profile clients on cases spanning financial markets infrastructure, capital markets, financing, restructuring and insolvency, and transformational deals.
The team prides itself on being the centre of information for its clients, and actively engages on key regulatory issues to remain at the forefront of developments.
Internally, the team is committed to innovation, diversity and employee development.
Dispute Resolution Team of the Year: Maurice Blackburn Lawyers
Maurice Blackburn was a dominant player in the class action space in 2015-16, settling or going to judgment in nine class actions, valued at more than $480 million.
The Maurice Blackburn team worked on disputes covering a range of issues, with actions being brought in relation to natural disasters and medical issues, and against car companies and banks.
The firm has obtained over $2 billion in settlements for Australians since the establishment of its class actions department in 1998.
Energy and Resources Team of the Year: Ashurst
Ashurst's 180-strong energy and resources team works on many significant, unique and innovative deals and projects in the sector, with a strong client base.
The team is broken down into mining, oil and gas, and utilities sub-teams, a structure that supports additional sector-specific skills.
The team prides itself on providing clients with the full spectrum of legal advice through each stage of a project's life cycle, from many locations across the globe.
Government Team of the Year: Clayton Utz
With established relationships with over 250 local, state and Commonwealth government clients, the Clayton Utz public sector (government) team advised on some of the most sensitive, strategic, complex public sector matters of FY2015-16.
The team is known for its ability to solve complex and sensitive problems and its thorough understanding of the government environment, while the team members are known as approachable technical experts.
In-house Team of the Year: Brookfield
The Brookfield in-house legal team of six dedicated staff services over 4,000 clients.
Each team member has particular legal expertise and skills, a desire to excel and a passion for property.
The team takes pride in its reputation within the business as a highly reliable and trustworthy source of efficient, timely and proactive legal services. Team members strive to combine skill with professionalism and commerciality in every matter they work on.
Insurance Team of the Year: Gilchrist Connell
As one of only a few boutique firms focused solely on insurance, Gilchrist Connell is sought by clients who want insurance specialists nationwide.
During FY2015-16 the firm opened a Brisbane office, making it the only Australian insurance firm with an on-the-ground presence in every mainland state.
The firm also grew from 13 to 19 principals over the year, through lateral hires and internal promotion in response to client demand.
Intellectual Property Team of the Year: Herbert Smith Freehills
The HSF IP team is broken into three specialist teams: an IP disputes team, a commercial IP team and a dedicated trade marks team.
The firm has a fully integrated international IP team with close collaboration between offices in Europe and Australia, ensuring a true global firm offering.
In addition to working closely with commercial clients, HSF's IP team is active in leveraging its expertise to provide assistance to pro bono clients.
Property Team of the Year: MinterEllison
MinterEllison's real estate group of 32 partners and over 180 legal staff offers an integrated full-service capability, spanning the entire project life cycle.
Over the last year the team has been lead adviser to state governments in relation to asset sales, strategic adviser on urban renewal projects in all major capital cities, and has worked on many significant projects and transactions for major property developers and owners around Australia.
Transaction Team of the Year: Ashurst
During FY2015-16 transactional lawyers at Ashurst worked on some of Australia's largest and most significant transactions, including capital raisings, major national infrastructure projects and significant private equity/financial sponsor matters.
The team believes its deep sectoral expertise, national coverage, global network, comprehensive specialist support and advice beyond 'black-letter law' are what set it apart and benefit its clients.
Further, the team is proud of its ability to develop groundbreaking and novel 'first of their kind' transaction structures.
Workplace Relations and Employment Team of the Year: Australian Business Lawyers & Advisors
ABLA had extensive involvement in industrial test case proceedings during 2015-16, as well as unfair dismissal claims, judicial review proceedings and discrimination, general protections and bargaining disputes.
The ABLA team consists of five directors, 13 other employment lawyers and five specialist workplace advisers, enabling it to appropriately match client needs with the right experience at a reasonable cost.
The ABLA workplace advice call centre handles over 20,000 calls a year, offering assistance to employers.
Lawyers Weekly Excellence Award
Rob Cutler, Clayton Utz
There are no nominations for this category, with the award going to the individual winner with the highest score.
Mr Cutler, the winner of the Managing Partner of the Year award, impressed the judges by driving change in the firm through a focus on three key areas: client service, international engagement, and diversity and inclusion