Off the beaten track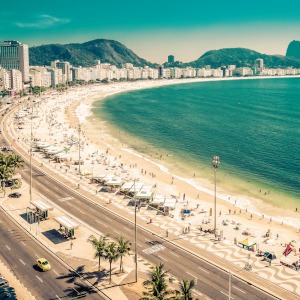 When Australian lawyers consider a stint or permanent move overseas, it's often London or New York that first pops to mind. But perhaps more should consider somewhere in beautiful Brazil.
Incredible landscapes, fantastic cities, great celebrations and delicious food all come as part of the package for people living in Brazil.
It's the largest country in South America and borders 10 other countries, as well as boasting a beautiful eastern coastline.
Home to over 200 million people, Brazil is almost 10 times as populous as Australia, and the demand for lawyers is high.
Setting the scene
Despite being larger than Australia in terms of land area, there are really two cities in Brazil that have significant legal hubs: Rio de Janeiro and São Paulo, according to Herbert Smith Freehills partner Juan-José Zentner.
"Such cities concentrate the bulk of the legal market and the firms that do cross-border transactions or high-profile disputes work are all located there," he says.
Several practice areas are going particularly well, according to Mr Zentner, who is originally from Australia but is now based in New York, working as a Latin America specialist.
"There has been a substantial surge in the demand for investigation, disputes, distressed M&A and restructuring work," he says.
"[This is] due to the economic situation of the country, and also to investigations being conducted in Petrobras and other large Brazilian companies."
Mr Zentner says this is a positive for international firms and lawyers because these are areas in which they can get involved.
"Within these areas we have seen some activity from US and English firms, mainly in matters that have either a restructuring or a distressed M&A angle," he says.
On top of this, Herbert Smith Freehills senior associate Pedro Rufino Carvalho, who is based in London as part of the firm's Latin America group, believes that inbound investment should increase in the near future.
"Expectations are for increased inbound equity investment in Brazil in the medium term, as private equity funds and strategic investors become more positive about the risk profile of undercapitalised local targets," Mr Rufino Carvalho says.
While this sounds like good news so far, Brazil is a civil law jurisdiction and therefore has a very different legal system to Australia, which operates under a common law system.
"The areas where an Australian-qualified lawyer can find more similarities between the work done in both jurisdictions are finance – mainly capital markets and project finance – and arbitration," Mr Rufino Carvalho says.
Realistic expectations
The demand for lawyers is high in Brazil, but this doesn't necessarily make it easy for Australian lawyers seeking a change.
"There is substantial demand for lawyers in Brazil," Mr Rufino Carvalho says.
"[But] it is important to note that the market for foreign lawyers is not fully open, so foreign firms may only set up local offices in order to act as foreign legal advisers."
This means that the only job an Australian can walk into with no extra qualifications beyond their Australian one is as a foreign legal adviser at a foreign firm.
"Foreign lawyers, regardless of their nationality or country of qualification, can work as foreign legal consultants in Brazil," Mr Rufino Carvalho says.
"There are no complex requirements to act as a foreign legal consultant, other than for the Australian lawyer to be qualified in any offshore country."
If Australian lawyers want to practise at a local firm, they need to be qualified in Brazilian law, Mr Zentner says.
"A potential path foreign lawyers can seek in Brazil would be that of qualifying as a local solicitor, although for that one would have to obtain a legal diploma from a Brazilian university and then take the local bar exams," he says.
"This process would normally last for over five years, with exceptions for Portuguese- and Spanish-qualified lawyers."
If that's not appealing, non-Brazilian legal practice does exist, but it tends to be limited to English and New York law, according to Mr Zentner.
This means Australian lawyers also need to be trained in English or New York law to land a role at an international firm.
"[There is] a considerable number of American and English firms [with] offices in Rio de Janeiro and São Paulo," Mr Zentner says.
"Australian lawyers qualified to practise English or New York law may find opportunities at the foreign firms operating within the constraints mentioned above."
Because there are so many restrictions, the number of opportunities that fit the bill for Australians is ever-changing.
"The availability of such positions varies over time, with there being relatively less now due to the current economic situation in Brazil generally," Mr Zentner says.
It's also important to note that Brazilian matters under English and New York law tend to be few in number, compared with Brazilian law matters, but are often large in value and/or scope.
However, other opportunities exist for Australian lawyers in-house, according to Mr Rufino Carvalho.
"Australians not qualified to practise English or New York law may yet find opportunities in-house at some of the larger multinational companies, though market forces again will be controlling."
While landing a job may seem quite tricky, once that is secured getting a visa isn't so hard.
"Several pathways exist for obtaining a work authorisation in Brazil, most of which require some level of sponsorship by a local entity – Brazilian or a Brazilian subsidiary of a foreign entity," Mr Rufino Carvalho says.
"Foreign professionals, including lawyers, often obtain long-term work authorisation based on applications by their employer with the relevant Brazilian authority that demonstrate a specific skill set not broadly available within Brazil."
There is also the investor visa, which grants permanent authorisation to work in Brazil, though this visa requires some form of tangible investment in the country.
Permanent visas are also available to foreign individuals undertaking certain management or executive functions in Brazil.
Cultural components
While Portuguese is the national language of Brazil, English is widely spoken among professionals.
"Professional Brazilians generally speak English at a high level, thus many professional endeavours can be successfully carried out by non-Portuguese speaking Australians," Mr Zentner says.
"However, informal interactions between Brazilian professionals and the vast majority of other day-to-day activities are carried out in Portuguese, which may present a limitation."
Other cultural differences are evident in the professional context, according to Mr Zentner.
"As compared to other jurisdictions, Brazilian professional meetings generally begin more informally before moving to the business at hand," he says.
"Brazilians are generally welcoming and accepting of foreign professionals, particularly when they take an interest in Brazilian culture, business and the Portuguese language, even if imperfectly."
Mr Zentner also noted that the local labour and employment laws tend to be more complex than those of other jurisdictions.
"[This] can produce complications to the extent the Australian lawyer is dealing with local issues in the office or personal environment," Mr Zentner says.
Bright future
In good news for Australian lawyers, all the aforementioned restrictions could be on their way out.
"There are many local lawyers who expect the Brazilian market to be fully open for foreign firms willing to compete with the local firms in providing local law advice," Mr Rufino Carvalho says.
"However, due to political lobbying and previous unsuccessful attempts by international firms associating with local players, the opening of the market on a full scale is uncertain.
"A full economic recovery of the country, regardless of any changes to the regulation that applies to how foreign firms may operate in the country, will likely enhance the demand for transactional lawyers, most likely those acting in the debt and equity capital markets areas."