Philips Dictation, the global leader in professional dictation and voice solutions, recently launched a new version of its SpeechExec Pro dictation and transcription workflow software. The updated software integrates Nuance Dragon Professional speech recognition, combining two market leading professional dictation solutions into one easy-to-use workflow. Within the Philips dictation workflow, the software turns voice into text without the need for typing, making document creation one simple process.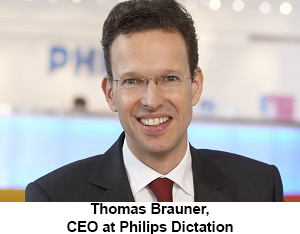 Professional speech recognition integration
"This is the first time we have integrated Nuance Dragon Professional speech recognition with the Philips SpeechExec dictation workflow solution," explains Dr. Thomas Brauner, CEO at Philips Dictation. "This combined solution turns speech into a text document instantly – guaranteeing the Philips quality that customers have come to expect and backed by the power of Dragon, resulting in greater documentation productivity and reduced transcription costs for our users," he adds.
Speech recognition that keeps up with you
Nuance's Dragon Professional speech recognition solution integrated with Philips SpeechExec Pro 10 is easily set up in just one installation and controlled within the intuitive Philips user interface. Customers can choose one of multiple languages, including English, French, German, Italian, Dutch and Spanish, to turn their voice instantly into text.
"SpeechExec Pro 10 learns the words and phrases used over time, while also adapting to the way each user speaks, driving higher dictation accuracy and greater productivity,," says Dr. Brauner. " With every use of the solution contributes to even more accurate speech recognition results," he adds.
Secure mobile working made easy
In addition to using speech recognition on your desktop computer, dictations and voice files recorded on the go with the Philips dictation recorder app on your smartphone can be autatically run through the speech recognition system. With one click, the text documents are synced to and visible in the recorder app on your smartphone in either .doc or .rtf formats. With optional Philips SpeechLive, users can also take advantage of the Philips transcription service, which works with trained professionals to type documents. This virtual assistant is convenient for lawyers and professionals in many industries transcribing complex documents.
"Our users can work proficiently from anywhere – at home or on the go – leveraging their trained vocabulary to always ensure accurate speech recognition results. This improves and simplifies the creation of text documents, saving time and keeping costs low," explains Dr. Thomas Brauner.
Try it for free and save with your upgrade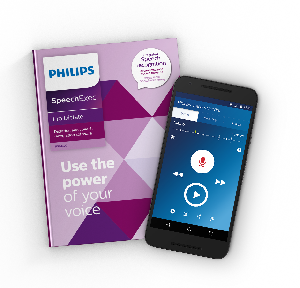 Philips SpeechExec Pro 10 is one of the few speech recognition solutions in the market that can be tested for free for 30 days. Certified Philips Partners can help throughout the trial period and provide support during the installation and training, and can address any other question users may have. Philips will also provide special upgrade offers for users of older dictation systems who are looking to renew their voice technology set up. For more information, visit: www.philips.com/dictation