Allens has a strong track record in working on LGBTI issues and alleviating injustice in this area. Recent work includes playing an active role in the marriage equality campaign; working with the Australian Human Rights Commission on medical interventions and intersex people; representing LGBTI asylum seekers, including working with Law Access in WA on fact sheets to assist this group; incorporating Pride in Law (a Queensland-based networking organisation for LGBTI legal professionals) and our work on expungement of historical convictions in Queensland.
It was a historic day when Queensland Premier Annastacia Palaszczuk stood before Parliament last year to offer an apology to members of the LGBTI community who were convicted of historical homosexual activity in Queensland, and introduce legislation to expunge these historical convictions.
Emile McPhee of the LGBTI Legal Service in Queensland had filed in to the packed public gallery that morning, keen to witness what was a life-changing and welcome announcement for the people affected and their families and friends.
Emile said many of the men had lived for decades with a criminal record for historical homosexual offences. As well as suffering shame or stigma, these men also faced practical difficulties, such as being required to disclose these records when applying for certain jobs (like teaching) or travelling overseas.
For Emile and the LGBTI Legal Service, this was an issue of justice that needed resolving, particularly after reforms in NSW and Victoria. Consensual homosexual activity was decriminalised in Queensland in 1990, but these historic convictions remained on people's records. It is estimated that over 95 years, 464 people were charged under the laws.
Under Queensland's 'spent convictions' regime, people are allowed to not disclose convictions after a certain period of time and on certain conditions, but there are exceptions, particularly around working with children and working in certain government positions. The LGBTI Legal Service believed a scheme to fully expunge such convictions was needed and they approached our Queensland pro bono practice for help.
The three-year project culminated in 2017 with the Queensland Government issuing a formal apology to members of the LGBTI community who were convicted of historical homosexual activity and introducing legislation to expunge those convictions.
'It was an amazingly emotional and overwhelming experience for us all,' Emile said of the day he heard Premier Palaszczuk's apology.
'It is a symbolic gesture to recognise that these laws were unjust and wrong and that LGBTI people shouldn't have had to go through what they did. That's an important step and something that shouldn't be overlooked,' he said.
But as well as these social and emotional benefits, the legislation may also have a real and practical impact.
'Although many have lived with these convictions for a long time, they may now be able to go back and do what they were prevented from doing for so long, for example working as a teacher.'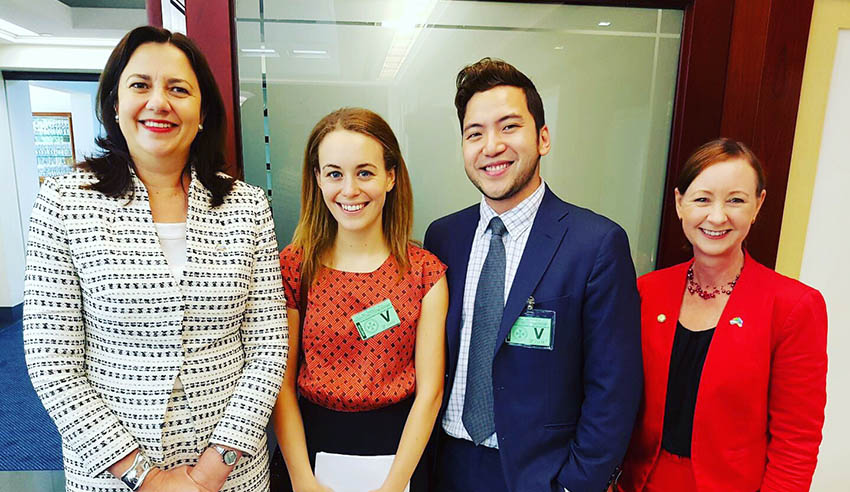 Premier Annastacia Palaszczuk, Allens alumnia Fiona Thatcher, Allens Associate Brydon Wang and Attorney-General Yvette D'Ath after the historic event in Parliament.
Senior Associate Matt Thomas from the Allens Brisbane office worked on this matter from day one. The firm's work involved researching and investigating the issue in Queensland, including what types of offences were used for prosecution, the approach of other jurisdictions (both in Australia and internationally) and options for legislative reform.
Allens worked with the LGBTI Legal Service, a long-standing pro bono client, to prepare a discussion paper that was released in September 2015. The Queensland Law Reform Commission considered reform options and released its own report in November 2016. The new Bill was introduced in May 2017 and became law in October.
Matt said the matter had been challenging but rewarding.
'We, together with our client, were able to move this debate from a position where it wasn't on the radar and there was no change proposed to one where we have achieved these legislative changes and an historic apology. We created change out of nothing and it was wonderful to be able to help a client who wouldn't have had the resources to achieve this on their own,' he said.
'I am proud to have been involved in a matter that has really changed people's lives in a genuine, tangible way.'
This matter is one example of Allens' lawyers' genuine commitment to achieving outcomes for and with pro bono clients, including those in the LGBTI community, which is a core part of Allens' LGBTI community engagement and external advocacy strategy.