Premium technology streamlines multi-lot development sales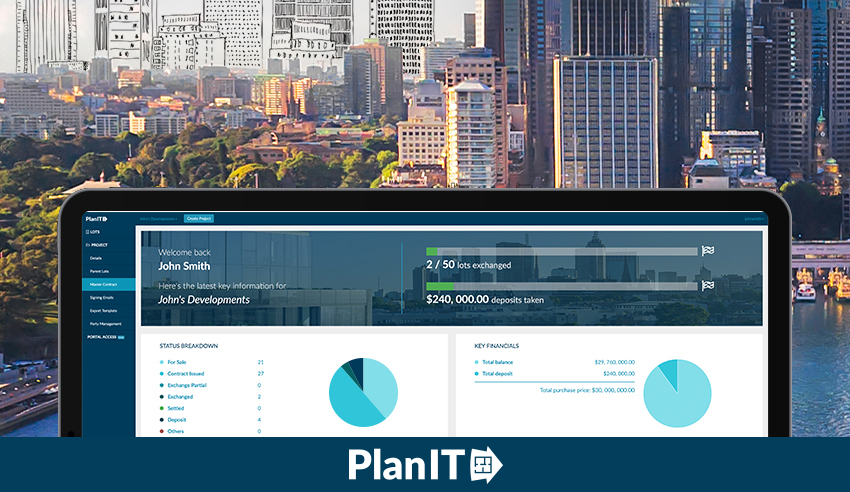 Promoted by InfoTrack.

Wondering if there's a better way for lawyers to manage the sales process for multi-lot and off-the-plan developments? Well, there is.
PlanIT is an electronic solution that simplifies the handling of multi-lot and off-the-plan developments. The PlanIT platforms allows you to create a master contract which will then generate individual contracts for each lot within a subdivision, these contracts are easily edited from a master or lot level. When it is time for signing, contracts can be executed electronically as an e-contract from anywhere or simply printed in hard copy.

The additional tools built into PlanIT allow you to export data into an excel file, use bulk correspondence and prepare settlement adjustments.

Since its introduction in March 2017, 83 top and mid-tier law firms have adopted PlanIT and 462 projects have been created containing over 21,000 lots. This strong demand has seen 284 real estate agents' access PlanIT via the agent portal, successfully completing 6400 contracts that were all signed electronically. Developer access has provided 142 developers with access to view project details and run daily reports.
Logie-Smith Lanyon Lawyers currently have two large development projects of off-the-plan apartments using PlanIT. Michael Lanyon, Founding Partner says that "our developer clients value the ability to access the site to view all documents and track the progress of their development."The Head of Property Developments, Tracey Bartlett also values"the ability to have all parties sign and exchange a paperless contract of sale simultaneously even when the purchaser is interstate or overseas, which is immeasurable."
Built on the latest technology
Beneath its sleek user interface, PlanIT is built on highly secure, available and scalable Amazon Web Services (AWS) infrastructure. This flexible technology powers a solution that is scalable, customisable and highly sophisticated.

As PlanIT is a cloud solution, the portal can be accessed via your PC, smartphone, tablet or other device no matter where you are and without installing any apps or software. Whether your project has 5 lots or 5000, the process is the same!

PlanIT is accessed through a single web-based platform – lawyers, developers and agents can all access PlanIT, with lawyers retaining control over the level of access other parties have to their projects.

Ongoing enhancements
It's not just premium tech infrastructure that sets PlanIT apart, since its introduction more than 2 years ago the solution has been continually refined to reflect feedback from our clients and to implement the latest advances in technology.
PlanIT is completely integrated with DocuSign for e-signing contracts. This facilitates the management of the entire process electronically – from creating an electronic contract to the electronical financial settlement. Management and tracking of optional extras, reporting and personalised branding are also available.
The latest correspondence functionality saves time and prevents frustration. You can now edit documents via Word within the platform, rather than having to download, edit and re-upload documents. 
PlanIT development never stops. More time-saving workflow and tasks are always being developed to continue to meet our client's needs and to remain the most functional and desirable solution on offer.
Supporting lawyers, developers and agents
Support for PlanIT is available 24/7 as we recognise that property can be sold anywhere at any time. Support staff are also available to provide a personalised service, facilitating on-site support for signing at launch days and open days.

Find out more about PlanIT or for a confidential discussion, please contact This email address is being protected from spambots. You need JavaScript enabled to view it..