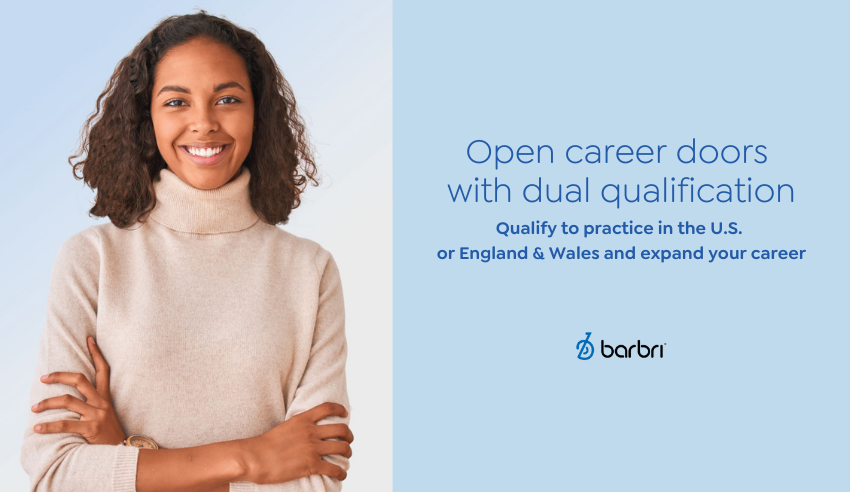 Promoted by BARBRI Global
In our increasingly interconnected world, demand continues to grow for lawyers who can handle matters worldwide. As clients conduct cross-border transactions with greater frequency, qualifying in another country allows you to meet the demands of international clients while also standing out in a very competitive market.
BARBRI helps lawyers in the Australian market cross-qualify in the United States or in England and Wales. BARBRI Extended U.S. Bar Prep and BARBRI SQE Prep courses focus on preparing non-U.S. law graduates and lawyers to progress in their legal careers by being more employable around the globe.
A shrinking global legal market is something BARBRI recognized more than 50 years ago in the U.S. when it was founded to help students learn the law and legal concepts needed to pass a U.S. state bar exam. Today, BARBRI has a network of more than 1.3 million alumni.
Here are a few questions we are often asked.
Why consider cross-qualifying in another jurisdiction? 
We see lawyers from all backgrounds and career stages. While all have differing reasons, most want to enhance their legal career within their current firm or stand out when applying for positions elsewhere. Many international law firms give recruitment preference to candidates who exhibit knowledge in more than one legal system.
Lawyers cross-qualify by passing the New York or California Bar Exam or the Solicitors Qualifying Exam (SQE) in England and Wales. By passing a U.S. state bar exam or the SQE, you can advance your earnings potential. Many firms value dual-qualification and are willing to compensate well for it.
What are the requirements for qualification into the U.S. or England and Wales?
The U.S. offers opportunity to those who are fresh out of law school in common law countries as well as to those from civil law jurisdictions who are already qualified, practicing lawyers. The requirements depend on the U.S. state to which the person is applying. New York permits those who hold a minimum of a three-year law degree from a common law jurisdiction to apply for eligibility, while California allows any non-U.S. educated applicant from any country in the world to take the exam for admittance.
To qualify as a solicitor in England and Wales, the Solicitors Regulation Authority (SRA) requires candidates to have passed both stages of the SQE, beginning this year. SQE1 focuses on legal knowledge and SQE2 on practical legal skills. To be eligible to sit the exam, a candidate may hold a degree in any discipline from any jurisdiction recognized by the SRA or be a qualified lawyer in another jurisdiction.
How long is the dual-qualification process?
In the U.S., foreign eligibility approval can take up to six months. Then, BARBRI prepares candidates for the New York or California Bar Exam over six- or ten-months prior to the exam. The complete dual-qualification path typically takes about one year.
BARBRI also prepares candidates who wish to dual-qualify in England and Wales for the SQE. The SQE is a new way of preparing for qualification that replaces the Graduate Diploma in Law (GDL) and the Legal Practice Course (LPC) from September 2021, with the inaugural cohort due to sit the examination in November. 
The SQE Prep is comprised of two stages: SQE1 and SQE2. BARBRI SQE Prep courses offer flexible, part-time study options, ensuring students feel confident passing the new examination and have the right tools and knowledge to progress their legal career. The complete dual-qualification path can be completed is as little as 12-months.
How can a student best study and still manage work-life commitments?
BARBRI courses are designed to be flexible and to accommodate ambitious international law graduates and lawyers who work and have other commitments. All course can all be completed on-demand online.
BARBRI students are assigned a 1:1 mentor who is a U.S.- or UK-qualified lawyer, depending upon the exam. Your mentor is your personal coach and guide who helps focus your studies and is with you every step throughout the qualification process.
As you evaluate international study options, we recommend finding solutions that are specifically designed for non-U.S. graduates that focus on exam techniques international students find difficult to master. Look for courses that are written and delivered by law professors and practitioners who are specialists in their respective areas in their respective countries. You get that with BARBRI.