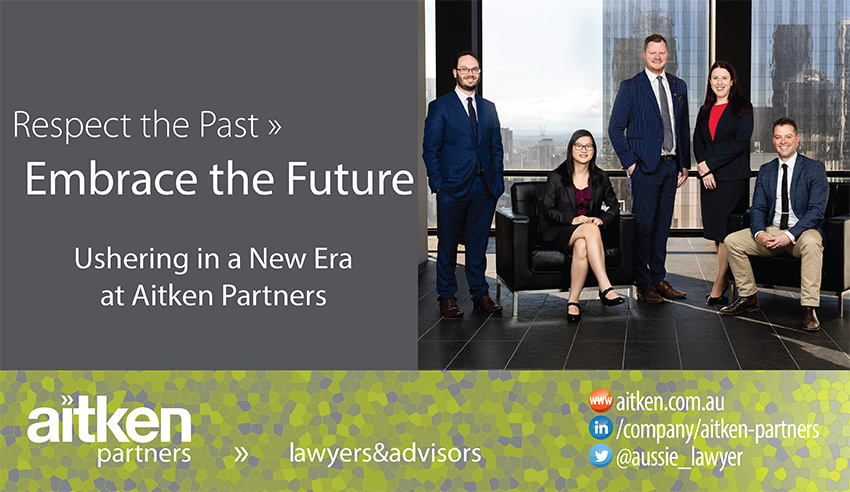 Promoted by Aitken Partners
Melbourne-based law firm Aitken Partners is entering a new era in its leadership, with the firm's 4 equity principals handing over the reins to 5 of its senior lawyers – including 2 of its best and brightest female lawyers in a move that places the firm's gender and cultural diversity on display – on 1 July 2021.
The 5 new equity principals say this next phase of Aitken Partners, a firm that is approaching its 100th birthday, is about respecting the past while embracing the future.
The new owners of the business come from all practice areas of the firm, and are: 
Alex Nicol, Insolvency & Litigation – Alex first joined Aitken Partners in 2008 before joining another mid-tier firm on the way to starting his own firm a few years back. He returned to Aitken Partners during last year's lockdown.

Dylan Chaplin-Burch, Family Law – Dylan has been with Aitken Partners since 2017 and is a key part of the firm's critical Family Law practice. 

Julie Maxfield, Property & Commercial – Julie joined Aitken Partners in 2009 and has built a practice around property and Aged Care. 

Lizia Lim, Wills & Estates – Lizia has been with Aitken Partners since 2015 and is an LIV Accredited Specialist in Wills & Estates. She is highly regarded in the field and has received recognition in publications such as Doyles Guide as a recommended lawyer for both Estate Planning and Estates Litigation. 

Paolo Tatti, Litigation & Insolvency – Paolo is the latest arrival at the firm among the new equity holders, having joined in 2019. Since then he has quickly become a mentor to many of the firm's junior lawyers, and his astute advice has seen his part of the practice grow. 
Alex Nicol says the reasons for him buying into the practice were quite clear: "It's got such a strong history and a history of long-term client relationships. The legal profession is facing challenges from technology and what can be termed as disruptors in the market, but the ones that are going to be successful over the next decade, are the ones that can adapt and maintain the thing that computers aren't going to be able to do, which is those really strong relationships. This has been one of Aitken's strengths over the years." 
His thoughts are echoed by the other new equity principals, and they view that as a great base to build something special in the Melbourne legal market. 
"The relationship history is important," Julie Maxfield says, "but we also want to find ways that we can make improvements to provide better those services to both news clients and those we have been working with for a long time. 
"The culture is important, and the fact that we have all been here for a while is important. For me, that has allowed me to form relationships with the colleagues here and also the clients as well. We can never step away from the fact that we are a relationship-based firm."
Both Alex and Julie acknowledge the efforts of the 4 outgoing equity principals – Andrew Blogg, Ed Clark, Michael O'Brien and Ric Rickett – who are all staying with the firm assuring continuity for clients and staff. 
"The structure of the firm remains strong, irrespective of any changes," Alex says. "The 4 outgoing principals are part of the furniture here and they'll all be staying on for at least the next few years, to assist with the transition, and to continue to help the clients that they've worked for many years.
"In some respects, it's business as usual from an Aitken Partners point of view. From our perspective though, it's all about the opportunity. There are things that we, as the younger generation of lawyers coming up, think can be done in a way that's better driven by client outcomes and client satisfaction – we see the world a little differently because of our own experiences. So, there are things that we want to develop and we need to ensure we are adaptive to deal with the challenges of the modern world."
Julie says the next few years are about consolidation and then growth. She says the firm has a great group of lawyers at all levels of expertise, and these lawyers are exposed to clients rather than left in the backroom. She feels this works better for both clients and staff, she sees this as the bedrock of the opportunities in front of her and the other new equity principals. 
"When this opportunity came along," she adds, "and having been here for many years like the others, we formed our group through people I respect, and that respect each other, which is important. We built the team we wanted."
For Alex, one of his passions has always been owning and running a business and he didn't have to think long when the opportunity was placed in front of him. 
"I like the idea of being able to drive both culture and legal expertise and adapting to the new demands of the legal profession. I've always been someone who likes the law, but I also like the business aspect and the human element of being responsible for growing and developing a business. 
"That's a real passion of mine, and the opportunity arose with people that I not only like, but also respect and admire. The firm has such a strong foundation and that combined with the dynamic and brilliant group we have formed puts us in a strong position to take advantage of the opportunity that we now have in front of us. 
"Our group was formed based on the relationship between us and the different skillsets and legal practice areas that we bring to the table, not any desire to fill a particular number of seats at the table. Between us, we cover many aspects of what is a true full-service firm. We each bring something different to the management table too, which we'll need given we have aspirations to grow and to be regarded as one of the leading law firms in Melbourne. 
"Aitken Partners is a firm that has great lawyers in the areas that the 5 of us practice in, but one of the things we haven't done well at is cross-selling our lawyers. It's about saying to the clients with who we have really strong relationships, 'if you find yourself in a commercial dispute, we can help you. If you or your family need a will drawn up or a succession plan, right through commercial property and family law advice and disputes… we can help you too'.
"It's about trust and growing the relationship. We represent the continuation of the ideal that we can do all the work for you. We can do it well and we'll hold your hand along the way." 
The news has been received well among the staff at the firm, and since the announcement 2 weeks ago there is a revived energy as people head back into the workplace after another tough lock-down. But they too will see changes, with greater opportunities for flexible working arrangements and the like able to be explored by each member of the firm. 
"We will be seen as a leading practice in Melbourne during the next 10 years because we take over a strong firm with a view to improving and modernising through small changes," Julie adds. "We will make these changes after carefully looking at the opportunities and analysing them. There is plenty happening in the legal space, and we want to embrace the changes available to us in building the firm we want while respecting the history of the firm and what it has done so well for the past 98 years."