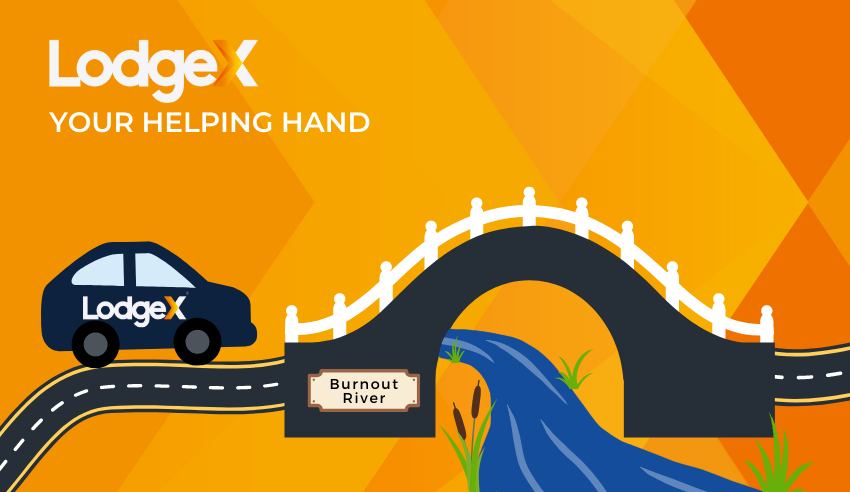 Promoted by LodgeX Legal
Now is the time for property professionals to start considering wellbeing, burnout, and establishing best practice for personal and professional success.
As we enter the silly season and final quarter of 2021, it's time to pause and reflect on your own wellbeing, and the wellbeing of your staff. The conversation surrounding mental health and work life balance has never been more relevant as we experience increased stress from a hot property market, lockdowns, and the current uncertainty about life as we move to the as yet undefined "COVID normal". 
This isn't a new idea either, in 2019,  at a time well before the pandemic started,  the VLSBC conducted extensive research into mental health. Earlier this year they released the VLSBC Lawyer Wellbeing Report which analysed the findings from their research. Not surprisingly, we seem to be working harder than ever, with the line between work and home blurred as we switch back and forth throughout the day. It's not just remote work and work-from-home blurring this line though, with mobile phones, emails, and a more connected society overall allowing work to creep outside of the walls of the office and follow us home. These findings are reinforced in a recent article from Forbes exploring burnout in the legal profession.
Added to all this: uncertain market conditions and future outlooks have meant that we are taking on more and more work. Whilst there is a growing voice for wellbeing in workplace conversations and programs, it is more than yoga and staff lunches. We are still lagging in properly dealing with workload management and support. 
Yes, quite often we need help and yet more often, we just don't ask for it. Why does this happen? The most likely reason is that we work in a profession where asking for help has an intrinsic negative connotation. As lawyers, we tend to believe that if we need help, it is because we can't cope. 
However, this is not true.
Asking for help should not mean that you are incapable or carry any negative connotation. Asking for help can not only save your mental health and wellbeing it can give you peace of mind and have a flow on effect for your business. Further, for the managers and leaders in our profession, it can be up to us to seek solutions early to assist our teams who may be feeling these pressures and struggling to stand up or reach out to us.
While employee wellbeing should be an evolving piece in your organizational values, here at LodgeX we can help with some initial tools to get the ball rolling, so that you and your staff can feel some relief heading into a busy few months. 
Workload and work pressure

Not only is heavy workload a key contributor to burnout in lawyers, but it is exacerbated when combined with resource limitations. Reducing workload stresses without reducing the quality of your service can be a hard balance, but new technology and improved systems can be an easy solution to this, such as LodgeX's e-Settlement and e-Conveyancing platform: Lapp.

With proven time savings of up to 3 hours per-file, a clean and intuitive interface and status updates, you can reduce your time and workload commitments without sacrificing quality of service. 


Lack of support 

Support is needed at all levels in the workplace to ensure staff wellbeing, but it's something that is so easily forgotten or brushed aside.

At LodgeX we are completely in-house, and our team comprises of highly experienced property lawyers and conveyancers. We do not outsource to service our settlements, meaning you have real support available, onshore when you need it. Our solution offers true scalability so that we can confidently scale up for high volume subdivisions as well as the usual everyday transactions


Lack of autonomy 

Choice as to how and when you perform tasks associated with your work – Conveyancing and settling in a workspace can feel draining as you constantly wait for, check in on and chase up updates and signatures from other parties to the transaction.

Our bespoke platform, Lapp, is built by practitioners for practitioners. We understand the pressures that you face day to day because we are just like you. We know that any platform needs to be easy to use, provide you with real time updates and be robustly secure 
Asking for help or recognizing you can't do it on your own can be hard, but it shouldn't have to be.  It doesn't mean you or your staff aren't capable.  Managers and leaders should seek out and implement systems of support proactively as doing so can not only save your and your team's mental health and wellbeing, if given properly, can also clear your mind to look at your work life in a whole new way.
For more information about how LodgeX can help improve e-Conveyancing and e-Settlement transactions in your practice for the benefit of you and your team, reach out to our friendly team or take advantage of our introductory offer exclusively for Lawyers Weekly subscribers below.